News & Features
Event Schedule
Tennis Recruiting National Showcase Series
by TennisRecruiting.net
The Tennis Recruiting Network is excited to announce a new series of tournaments called National Showcases. Tournaments in the National Showcase Series are USTA-sanctioned junior tournaments open to players from all sections. These tournaments are designed to give a broad range of players the chance to compete outside of their districts and sections - and these tournaments will count towards Tennis Recruiting rankings.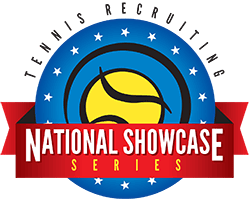 National Showcase tournaments are "open" tournaments. Entries for these tournaments will be open to all USTA players, regardless of residence. The bulk of these tournaments take place during the summer or on long holiday weekends to accommodate travel.
All events in National Showcase tournaments will count in Tennis Recruiting rankings. Note that these tournaments are not on the USTA national schedule - they are sanctioned by sections or districts, and so players competing from other sections will not earn USTA ranking points. But they will absolutely count at TennisRecruiting.net. Further, players who compete in these tournaments and win at least one match will become National Players for the purpose of determining event quality for other tournaments.
Tennis Recruiting has sought out well-respected tournament directors with a history of running strong, high-quality tournaments. These directors are interested in running open tournaments to meet a need in light of recent changes to the junior competition format. The goal of these National Showcase tournaments is to provide additional opportunities for players to compete in other parts of the country.
Showcase Schedule
Here is the current schedule of National Showcase tournaments. Several more open tournaments will be added to this schedule as their USTA sanctions are finalized.
We hope that you will consider playing in one of these tournaments. Lastly, here are some principles of these National Showcase tournaments:
All events in a National Showcase tournaments will count for Tennis Recruiting national rankings.
A player who competes in one of these events and has a win - in the main draw or a consolation event - will become a Tennis Recruiting National Player.
Entry into these events is open to all USTA players, regardless of residence.
Acceptance will start with the USTA National Rankings - followed by the USTA sectional and district rankings.
We are excited to get started with these - and we look forward to many more such tournaments in the future.
For more information, check out our Frequently Asked Questions.
Leave a Comment
More Special Features
8-Dec-2013
The Invaluable Experience - New Kindle Book by Lao and Limpert
Reflecting on her successful college tennis career, Danielle Lao, a two-time All-American at USC thought she might have some valuable information to share with others either enrolled at colleges and universities around the country, thinking about playing college sports, or even sports fans wondering what the college experience is like for a elite athlete. With the help of Rick Limpert, Lao has
24-Nov-2013
WAM Sports College Showcase to be held December 5-6
The WAM Sports College Tennis Camp and Showcase is a great way to get exposed to and recruited by 40+ U.S. college tennis coaches. College coaches from all divisions across country will be in attendance to educate you about the college tennis recruiting process and spend time with you on court.
22-Nov-2013
College Tennis Camps and Showcases - A Must for College-Bound Prospects
What are College Tennis Camps and Showcases? Who are they for? What can they do for me? Junior tennis players, parents and coaches alike often do not know much about either type of event. Therefore, they are hesitant and unsure of the benefits. But the chance to talk to a college coach, to be scouted and educated by them, to even be recruited by college coaches is always a valuable experience for any student athlete, regardless of who you are.