News & Features
Event Schedule
Tennis Recruiting National Showcase Series
by TennisRecruiting.net
The Tennis Recruiting Network is excited to announce a new series of tournaments called National Showcases. Tournaments in the National Showcase Series are USTA-sanctioned junior tournaments open to players from all sections. These tournaments are designed to give a broad range of players the chance to compete outside of their districts and sections - and these tournaments will count towards Tennis Recruiting rankings.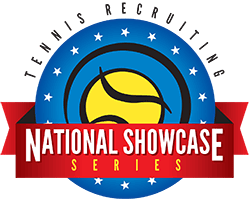 National Showcase tournaments are "open" tournaments. Entries for these tournaments will be open to all USTA players, regardless of residence. The bulk of these tournaments take place during the summer or on long holiday weekends to accommodate travel.
All events in National Showcase tournaments will count in Tennis Recruiting rankings. Note that these tournaments are not on the USTA national schedule - they are sanctioned by sections or districts, and so players competing from other sections will not earn USTA ranking points. But they will absolutely count at TennisRecruiting.net. Further, players who compete in these tournaments and win at least one singles match will become National Players for the purpose of determining event quality for other tournaments.
Tennis Recruiting has sought out well-respected tournament directors with a history of running strong, high-quality tournaments. These directors are interested in running open tournaments to meet a need in light of recent changes to the junior competition format. The goal of these National Showcase tournaments is to provide additional opportunities for players to compete in other parts of the country.
Showcase Schedule
Here is the current schedule of National Showcase tournaments. Several more open tournaments will be added to this schedule as their USTA sanctions are finalized.
Starts
Tournament
Events
Contact
4/24
114TH OJAI VALLEY JUNIOR TOURNAMENT
Ojai, CA
BG18-14
C. Fugle
4/25
HUDLOW JR. HARDCOURT CHAMPIONSHIPS
Norcross, GA
BG18-12
C. Chapin
5/24
NORTH GEORGIA JUNIOR OPEN
Rome, GA
BG18-12
R. Sasseville
6/13
JTCC NATIONAL OPEN SHOWCASE
College Park, MD
BG 18-16
M. Impeduglia
6/23
98TH LA JOLLA J.R TENNIS TOURNAMENT
La Jolla, CA
BG 18-12
B. Davis
6/27
GATOR BOWL
Jacksonville, FL
BG 18-12
R. Jenks
6/27
TENNISRECRUITING.NET OPEN
Minneapolis, MN
BG1-12
M. Rogers Hemmer
6/30
WILBUR FOLSOM MEMORIAL OPEN
San Diego, CA
BG 18-12
A. Podney
7/04
OKC NATIONAL SHOWCASE OPEN
Oklahoma City, OK
BG 18-12
S. Henry
7/11
MENDHAM SUMMER CHAMPIONSHIPS
Mendham, NJ
BG 16-18
L. Dwojewski
7/12
GEORGIA JUNIOR OPEN
Rome, GA
BG18-10
R. Sasseville
7/14
21ST COSTA MESA SUMMER JR. CLASSIC
Costa Mesa, CA
BG 18-12
H. Lloyd
7/19
NORMAN NATIONAL SHOWCASE OPEN
Norman, OK
BG 18-12
D. Minihan
7/19
DTS COLLEGE RECRUITING TOURNAMENT
Milton, MA
BG 18
T. Donovan
7/25
TENNIS RECRUITING NATIONAL TEAM CUP
Louisville, KY
BG18-12
C. Mather
8/01
UNIV. OF SCRANTON NAT'L SHOWCASE
Scranton, PA
BG 18-16
K. Hetsko
8/01
HUDLOW JUNIOR OPEN
Norcross, GA
BG 18-12
C. Chapin
8/22
ST. LOUIS JR. SUMMER OPEN
St. Louis, MO
BG 18-12
J. Dippold
9/05
GREENSBORO SEPTEMBER JR. OPEN
Greensboro, NC
BG18-12
M. Falcon
9/19
SC STATE JUNIOR OPEN
Charleston, SC
BG18-12
T. Simpson
9/20
BLUEGRASS FALL JUNIOR OPEN
Louisville, KY
BG18-12
C. Mather
9/26
ATA FALL OPEN AND SHOWCASE
Austin, TX
BG 18-12
B. Notis
10/10
GREENSBORO OCTOBER JR. OPEN
Greensboro, NC
BG 18-12
M. Falcon
11/22
GEORGIA THANKSGIVING JR. OPEN
Norcross, GA
BG 18-16
C. Chapin
11/22
ATLANTA THANKSGIVING JR. OPEN
Atlanta, GA
BG 14-12
T. Berne
11/28
WESTERN STATES JUNIOR OPEN
Tucson, AZ
BG 18-12
M. Houk
We hope that you will consider playing in one of these tournaments. Lastly, here are some principles of these National Showcase tournaments:
All events in a National Showcase tournaments will count for Tennis Recruiting national rankings.
A player who competes in one of these events and has a win - in the main draw or a consolation event - will become a Tennis Recruiting National Player.
Entry into these events is open to all USTA players, regardless of residence.
Acceptance will start with the USTA National Rankings - followed by the USTA sectional and district rankings.
We are excited to get started with these - and we look forward to many more such tournaments in the future.
For more information, check out our Frequently Asked Questions.
Leave a Comment
More Special Features
24-Jan-2014
Eight Intriguing Questions for 2014
Tennis Recruiting enters its ninth year in 2014, and this January we feature the ninth straight edition of "Intriguing Questions" from columnist Colette Lewis. Lewis asks eight questions about junior and college tennis that should reveal their answers over the next twelve months.
20-Jan-2014
College Format Changes - The Vote of 21-19
The scoring system in tennis is one of its most sacred heirlooms. When the ITA (Intercollegiate Tennis Association) had its annual convention and coaches meeting in December, the hottest and the most pressing topic was the scoring system. Legendary tennis coach Chuck Kriese reviews highlights of the discussion - with his usual commentary.
13-Jan-2014
Previewing Inside College Tennis with Tony Minnis - Part II
A new television series - Inside College Tennis with Tony Minnis - premieres this week, Tuesday, January 14 at 9pm EST / 6pm PST on the Tennis Channel. And the entire tennis community should be very excited about the new program. We got the chance to talk with host and former LSU coach Tony Minnis about what we should expect to see...