Special Feature
Teah Flynn Organizes Groundbreaking Tennis Relay
by
Ali Jones
, 6 February 2013
For a 15 year old, Teah Flynn has done more community service than most adults. She has logged hundreds of volunteer hours raising funds for charities, walking dogs owned by disabled people, and producing public service announcements for such causes as drunk driving, texting while driving, finding missing children and establishing a national database for criminal DNA.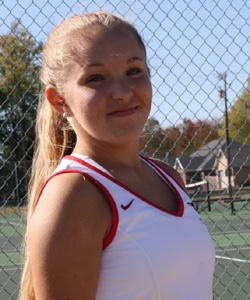 Community service is an integral part of
Teah Flynn
's life
"A lot of people probably don't think I'm a normal teen-ager," she laughed. "But I do have free time, in and out of school."
On February 9, 2013, Flynn, a two-star sophomore from Farmington, Arkansas, will host her most ambitious volunteer project so far - the "Keep The Ball In Motion Rally And Give Back" Tennis Relay. Through it she hopes to raise both awareness and over $700,000 for genomic cancer research at Washington University School of Medicine in St. Louis. That's a far cry from the $250 that she once raised for the Humane Society.
"I guess all this is an offshoot of what happened to my mom - the drunk driving was definitely," said Flynn, whose mother died in a vehicle driven by a friend who had been drinking. Not far from its destination, the Explorer that ferried her crashed into a gully, hit a tree, and instantly killed Leah. She was 32.
"We were sleeping, and we heard the ambulance," Flynn remembered. "Police officers came to our home and they told me to stay in bed. It didn't really register then. I didn't know what it was at that time, but now I do."
After the accident, her maternal grandparents adopted Flynn. Their grief was lightly lifted by their granddaughter's optimism and maturity.
"I was sitting at the breakfast counter crying," recalled Daun Flynn. "Teah said, 'Granny, don't cry, mommy is in heaven with God and nothing can ever hurt her again.' I will never forget those words."
Six months after their daughter's tragic accident, the Flynns saw an ad in the paper for tennis lessons and they signed up their granddaughter. Teah has been playing tennis since. She is on her high school team and trains at Pinnacle Country Club with Coach Manuel Cervantes. A member of the National Honor Society, Flynn is able to play tennis about six hours a week.
At age ten, Flynn and her grandfather George Schmitt signed up for video classes offered by the Fayetteville Community Access Television, and they have since produced numerous videos.