College Feature
NCAA Tournament Roundtable - Part I
by TennisRecruiting.net, 6 May 2013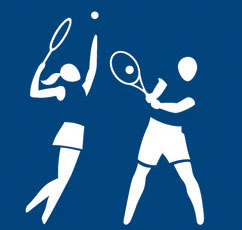 There is no better time than the present to get out and watch college tennis. This weekend, the NCAA Division I Tennis Championships get underway. Sixty-four
men's
and
women's
college tennis teams will head to campus venues around the country to compete in first- and second-round action. The winners will advance to the Sweet 16 at the
Khan Outdoor Tennis Complex
in Champaign-Urbana, Illinois, to compete for the team championship May 16-21.
Hopefully you can get out to watch some of the action this weekend, but there are plenty of places to get your fill of championship college tennis:
And, of course, we would be remiss if we did not remind you of our May Madness Bracket Challenge, presented by Tennis Warehouse.
TennisRecruiting.net invited some of our regular college tennis contributors to answer some questions about college tennis and the NCAA tournament. Today, in Part 1, we see their comments on a pair of questions. We will hear more from them in Part 2 on Friday.
Questions and Answers
Q) There were some interesting developments as the conference season wrapped up over the past two weekends. Three of the top four women's teams in the ITA rankings are from the SEC, with Florida looking strong to win the conference title as the No. 3 seed, while the Georgia men solidified a top seed with their second straight championship. The PAC-12 battles continued, with the UCLA men making the case for No. 1 with a third win this season over four-time defending champion USC, while all four PAC-12 women's programs from California are hosting regionals. In the ACC, the Virginia men won their seventh straight title as expected, but Wake Forest surprised by reaching the final - while noone anticipated the all-Florida women's final of seventh-seeded FSU vs. fourth-seeded Miami. What do you think were the best stories to close out the regular season?

Colette Lewis, ZooTennis.com
The Florida State women were impressive in the ACC tournament, defeating No. 2 seed Clemson 4-3 and No. 3 seed Virginia, also by a 4-3 score, after losing to both those teams in the regular season. Although they fell to Miami in the final, the Seminoles moved their ranking from 30 to 21 heading into the NCAAs.
The ACC also had drama on the men's side, with then No. 24 Wake Forest coming from 3-0 down in the tournament semifinals against No. 9 Duke to take a 4-3 victory. The Demon Deacons lost to Virginia in the final, but former Cavalier assistant Tony Bresky, in his second year at Wake, was named ACC Coach of the Year, ending Virginia head coach Brian Boland's five consecutive years as recipient of that award.
Marc Lucero, Co-founder and Director of Tennis, RAMP Tennis Academy:
I followed the South Carolina men pretty closely down the stretch, and they really came into their own at the end of the regular season, winning six of their last eight, beating Vanderbilt and Kentucky pretty convincingly to finish the season and then completing the season sweep of LSU in the SEC tournament first round. They will be dangerous on the road in the regional rounds.

Bobby Knight, College Tennis Online author:
After 100 years of playing tennis in East Lansing, Michigan State is headed to the NCAA Tournament for the first time in program history. Gene Orlando's Spartans squeaked in as one of the last at-large teams and it was likely their come from behind win over Nebraska in the Big 10 Tournament that got them that spot. They draw Tulsa in the first round of the Baylor Regional, and while I don't see them winning, just getting there is an accomplishment and will give the program something to build on in the coming years.
It was also interesting to see the pendulum swing away from USC and towards UCLA in the Pac 12, with the Bruins beating the Trojans three out of four times including twice in the final week of the regular season. Now granted USC was down a few men, but that aura of invincibility that was present from the last several years has disappeared.

Rick Limpert, College Contributor
Well, I have to say one of the best stories to end the regular season has to be that the Florida women's team is starting to peak at the right time of the year. This squad may not be as strong as the Florida teams of past few years, but Coach Thornqvist still has some experience on his team, and he instills a belief in his players that they can - and should - win everytime they take the court. For the men, how about UCLA and they way they have owned USC this year? Virginia appears to be hungry for title after taking another ACC title.

Granger Huntress, Texas College Tennis
I think the story is the fact that college tennis has been so extremely competitive this season. The difference between some of these teams is as thin as a thread. Let's look at some of these.
On the men's side, you've got a team like Michigan State, who defeats both South Carolina and Vanderbilt but loses to Western Michigan (among others). Another example is Pepperdine, a top-10 team by any measure. But last week was taken to the limit by BYU in a 4-3 match that was decided by a third set tiebreaker. BYU, another team that barely makes the tournament, had lost to Texas A&M-Corpus Christi and South Alabama.
The women have just been beating each other up all season as well. Obviously missing players is a part of this, but if Stanford can fall to St. Mary's or Duke to Maryland, we all know anything can happen.
Jeffrey McMillan, College Tennis Online author:
The men's side was full of great stories and matches in the last weekend of conference tournaments.
The big shocker of the weekend was Wake Forest ousting Duke in the ACC tournament. Everyone had penciled in Duke and Virginia in the final for a third showdown of the season. But the Deacs had other plans. Senior leader Danny Kreyman set the tone with a two-set thumping of Fred Saba, and then senior leader Amogh Prabhakar finished after outlasting Michael Redlicki by being the steadier player mentally in the end. It showed how a team can band together and defeat a team that is seen as the big favorite.
Another great story was Wichita State winning the Missouri Valley after beating conference kingpin Drake in the final 4-3. The unranked Shockers took after their basketball peers and won in large upset fashion to steal an NCAA tournament birth.
The Michigan State men were one of the last two teams into the tournament when the brackets were announced Tuesday. Believe it or not this is the Spartans first EVER trip to the big dance. Tom Izzo was on hand to watch the selection show with his friend Coach Orlando and the team and the room went crazy when Michigan State appeared on the screen. It was a good moment.
In the women's game, the big story of the weekend was Florida State beating Clemson for the first time since Nancy Harris started coaching the Tigers in 1997. It was a big upset, and the Noles rode the wave to upset Virginia in the next round.

Sonny Dearth, Daily Press
In Virginia, we wonder which streak will end first: the Cavalier men's amazing 106 victories in a row against Atlantic Coast Conference opposition, or the consecutive years of torment for UVA when Coach Brian Boland's squad gets close to claiming its first NCAA outdoor team championship. The computer rankings put UCLA on top by a whisker, but unless former USC star Steve Johnson flies to Illinois and dons a disguise, it's hard to imagine the unbeaten Cavaliers losing if they're near their best. Also, we salute the retiring Notre Dame men's coach, Bobby Bayliss, who grew up in Richmond, Va. I met him a couple of years ago when he was recruiting juniors at the U.S. Open and will never forget his class.
In women's play, the temporary decline of Duke - because of three major injuries and star Beatrice Capra's academic violation - has been stunning. The Blue Devils recently lost to Maryland and Virginia Tech, two double-digit seeds in the ACC tournament. What once looked like a national title contender will need big-time luck and performances from its top three just to get past Ole Miss in the first round.
Q) This past Tuesday evening, the NCAA Division I brackets were announced on selection show specials (men, women). The first two rounds take place on campus sites, and six schools will be hosting both men's and women's regionals. Which venues will you be watching most closely - and why?

Harry Cicma, WNBC Sports Anchor and lead announcer for Turner Sports Broadcast of the NCAA Tennis Championships
I feel that Notre Dame has a very strong team this year, and they have the potential to make a major Cinderella run. 2013 marks the final season with the legendary Bobby Bayliss as head coach, and I know he will inspire the Fighting Irish to be brave and aim for a run deep in the tournament despite not being seeded. Notre Dame has a very tough first-round battle against Washington, and they would then face the fifth-seeded Buckeyes from Ohio State. I believe they have a shot at winning both the matches, and I'm sure they will be exciting battles.
On the women's side, Florida State plays Memphis in the opening round - and potentially No. 9 seed Alabama in the round of 32. The Seminoles upset Clemson at the ACC tournament, proving that they have the lineup to pull off a few upsets in the NCAA tournament. I like Florida State to give Alabama a run for their money - and potentially make a run to the Sweet 16. That quarter of the bracket is very exciting.

Marcia Frost, College Tennis Contributor
I'm seeing a lot more opportunity for upset on the women's side. I think the potential match up between North Carolina and Tennessee in the second round could be a tough one for the Tar Heels. I'm also keeping an eye at a possible second round clash between Virginia and Texas at the Cavaliers home. Another tough match up in the women will be at Clemson, where the No. 13 Tigers could end up fighting against No. 19 Vanderbilt.
As for the men, Ohio State has the longest home winning streak in NCAA Division I, but they have some tough challenges coming to town with Notre Dame and Washington.

Julie Wrege, TennisRecruiting.net
On the women's side, Lubbock, Texas should be the host of an interesting foursome. Injuries have ravished the Duke Blue Devils, but Coach Ashworth's team still has several players left from their NCAA Championship team who are very proud. Their match with Ole Miss should be interesting. And Coach Anastopoulo's Charleston Cougars could be a fiesty foe for host Texas Tech.
In South Carolina, Clemson should be able to handle Eastern Kentucky at home - but then comes the match with the winner of Vanderbilt vs. Indiana.
Both of these venues should produce exciting matches.
On the men's side, the first round match in Knoxville between Boise State and Clemson should be a good one. The winner could give Tennessee a nice match.
Everyone is talking about the potential second-round matchup between Texas and Texas A&M in College Station, but perhaps Waco is the place to be in Texas. The Tulsa-Michigan State match should be exciting with the winner taking on host Baylor.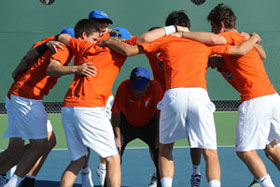 Dearth:
Though UVA's men and women should advance, Charlottesville has intrigue. The
VCU
men play
Minnesota
in a matchup pitting Rams coach Paul Kostin, who just gained his 1,000th college coaching victory, against the school where his former athletic director, Norwood Teague, now works. In women's play in Charlottesville, a vastly improved
William & Mary
team - under first-year coach Tyler Thomson, who left Minnesota's top post to come to W&M - faces Texas. Patty Fendick-McCain, the UT women's coach, was one of my favorite interview subjects when I covered Wightman Cup two decades-plus ago... in Williamsburg. I also would love to see great rivalry matches in the men's second round:
Florida State
at
Florida
and
Texas
at
Texas A&M
.
McMillan: There are a few regionals on the men's side with mismatches that will be of little interest to the outside viewer. But most of them have some intrigue.
One of the most even regions is the Gainesville region. The Gators will have their work cut out for them if they want to make it to Urbana. The Cal Bears are a dangerous team, the region also has one of the stronger 3 seeds in Florida State who beat #14 Oklahoma earlier in the year.
Potential Round of 16 host Illinois landed a good draw as they will head to Nashville. They get Georgia State in the first round and then will face Vanderbilt in the second round (although No. 4 ETSU is the best 4 seed in the tournament).
Lexington will be interesting too. Michigan is always dangerous with Evan King. Kentucky is prone to lose to anyone. And 3 seed Virginia Tech played very good tennis at the end of the year.
Huntress: Off the top of my head I will watch the Vanderbilt, Kentucky, Georgia, Texas A&M and Mississippi pods on the men's side. I think all of these teams are vulnerable at some level due to having dangerous teams in their brackets. I only have UGA on the list because of what Wake did last week. The SEC schedule is brutal and may not give us a true analysis of which teams are actually really good. I mean, we know UGA is GOOD, but the others were not as hot down the stretch. Vandy has lost 3 of 4, Kentucky 5 of 6, TAMU 5 of 9 and Ole Miss 3 of 5.
On the women's side there are several vulnerable pods I will watch. I think Nebraska, Texas Tech, Northwestern, and Virginia are all interesting. Most of the teams heading to these places are pretty good teams but they have also all struggled at some point in the season.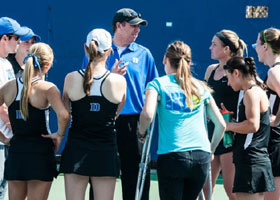 Lewis:
No. 16
Vanderbilt
, hosting on the men's side for the first time in ten years, should face
Illinois
in the regional final in Nashville. The Fighting Illini will be attempting to earn a spot in the Sweet 16 on their campus, a powerful motivator that should produce an exciting match.
The No. 15 Florida men have a tough regional with No. 18 Cal coming to Gainesville, along with Denver and Florida State. The Bears already have a win over the Gators at this year's Team Indoor in Seattle.
The Texas Tech women are hosting for the first time, and I'm interested to see if the Duke women, who are ranked No. 15 but not hosting, can overcome their rash of injuries. With only five players, they start every match down 1-0 and face No. 37 Ole Miss in the opening round.
Limpert: I'll be keeping an eye on three regionals for the men this weekend. Lexington, Kentucky for a possible Michigan/Kentucky matchup in the second round. It's Michigan senior Evan King's swan song and should the Wolverines get by Virginia Tech the Kentucky match is very intriguing. Also, I'll probabaly be in Athens, Georgia and hope to see an upstart Wake Forest program take on the host Georgia Bulldogs. The Gainesville, Florida bracket is loaded with Florida, Denver, California, and Florida State all going to do battle.
For the women, the most interesting regional has to be in Miami where the Hurricanes will try and fend off a pesky North Florida team in round one and then the winner of Purdue and South Carolina after that.
Knight: On the men's side there are several sites that will offer some intriguing matchups. Nashville will have a Vanderbilt/Illinois second-round matchup that could send the Illini back home as a participant in the tournament it's hosting. Lexington has a Kentucky/Michigan second-round matchup that has upset potential. College Station will have Texas and Texas A&M locking "horns" in the second round a year after A&M left the Big 12 for the promised land of the SEC
On the women's side I'll be keeping an eye on Lubbock to see if a shorthanded Duke squad, which started off the year with so much promise, can find its way out of the first round.
Lucero: I will be keeping an eye on the Stanford women's regional, I think if they are ever going to be vulnerable while hosting a regional, this is the year. Rice ran the table to end the year so they will be confident and are kind of an unknown.
On the men's side, I will watch Duke's regional with South Carolina looming in the Round of 32. There is an interesting connection there with South Carolina head coach Josh Goffi formerly working as Ramsey Smith's assistant at Duke, and it goes back ever further to their days as juniors in South Carolina. Also keep an eye on Florida's regional; if Florida State can get by Cal, it will set up a Gators-Seminoles match up, and whenever these two rivals get together anything can happen.
More on Friday
Come back this Friday - the first day of competition - to see answers that our panelists gave to more questions. We ask our panelists to talk about potential darkhorses - and to name their national champions.
Leave a Comment
More College Coverage
11-Mar-2014
Conversation with UNLV's Owen Hambrook
UNLV's Owen Hambrook is now in his eleventh season as head coach of the Runnin' Rebels men's tennis program. Hambrook, who led the program to its first-ever Mountain West championship, took the 2012-13 squad to a 17-7 overall record and a final ranking of No. 62. NBC's Harry Cicma caught up with Hambrook to talk tennis, Las Vegas, and recruiting.
26-Feb-2014
Notre Dame Dominates Ball State in College Match Day Contest
Only hours after a grueling and emotional home loss to top-ranked Ohio State Saturday afternoon, the Notre Dame Fighting Irish returned to the Eck Tennis Pavilion courts to sweep Ball State in a nationally streamed USTA College Match Day contest Saturday evening, rebounding quickly from the disappointing loss to the Buckeyes.
21-Feb-2014
ITA Format Experiment Comments: Part Two
In part one of my discussion with college coaches, there was little support for continuing the women's experiment, which featured a match tiebreaker in lieu of a full third set. In part two below, five more coaches provide their perspective on the ITA's format experiment, as does Dustin Taylor, the USTA's National Coach for Collegiate Tennis, and Mitchell Frank, the University of Virginia's No. 1 player, who is leading the student-athlete opposition to any change of format.