Sports Psychology
Finding Your Tennis Zone
by John DenBoer, Ph.D., 7 February 2014
Special from
Mental Edge Tennis
After a great match, you often hear players say "I was in the zone!"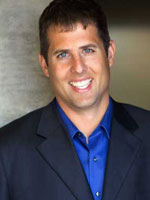 What is the zone? Although there have been many different definitions, the most commonly accepted definition of the zone is a state of optimum physical and mental performance. Many competitive tennis players describe that their emotions during this time are very stable and their play appears effortless. Everything appears to be in flow and, in the end, everything appears to be "going their way."
In reality, the zone is something that takes a lot of hard work to achieve. It is typically achieved through a combination of psychological techniques in combination with dedicated physical training. Psychological techniques include both off and on-court techniques, including (but not limited to) deep breathing, visualization, and mantra use. One needs to practice these off-court techniques before utilizing them in on court.
An additional off-court technique that greatly helps players achieve the zone more often is journaling. Daily journaling keeps your tennis and non-tennis mental goals at the forefront of your mind, and motivates you to do serious daily work towards these goals. As an example, I typically have my students write out three things they did well mentally, as well as three areas of mental improvement. I typically have them do this after each tournament. I have found these exercises extremely important, and many of my students refer to them daily.
An additional and important aspect about zone training includes identifying your optimum arousal level. You may want to work to achieve this optimum arousal level prior to match play. Given that tennis is a complex sport which requires both gross and fine motor coordination, most tennis players do well with a mild-moderate level of physical and mental arousal. It is important, however, that players figure out their own optimum level of excitement. This can be done through experience, insight, and asking trusted friends/competitors and/or coaches.
By actively working on the foundational techniques presented above, the competitive tennis player can find their own "tennis zone."
For more information on mental coaching techniques for tennis players or for information on Dr. DenBoer, please visit www.mentaledgetennis.com.
Leave a Comment
More Player Advice
23-Dec-2013
Training Effectively vs. Just Training Hard - 10 Tips for Maximizing Your Training
When it comes to getting the most out of your training, working hard is not enough. In order to see real results, you should focus on training the way you want to compete. Hare are ten key strategies for maximizing the effectiveness of your training.
4-Dec-2013
Staying Out of the Way
I started teaching tennis in the mid 1950s. Not a day goes by where my mind doesn't say, "here we go again." My toughest lesson is not with my students - but with their parents. Parents, please read this several times and be honest with yourself, and if the shoe fits, please loosen your laces a bit and just be a mom or dad to your kid. Let the coaches do their jobs.
9-Aug-2013
Becoming a Mental Tennis Warrior
A warrior is defined as a brave or experienced soldier or fighter. As competitive tennis players know, every match is a battle, with the intensity of this battle increasing the higher ones level of play. At any level of tennis, this battle is not simply physical, but mental as well.
About John DenBoer
John W. DenBoer, Ph.D., U.S.P.T.A., is a former collegiate tennis player with an array of tennis teaching experience. He was a 4-time Most Valuable Player award and 4-time Academic All-Conference selection and played No. 1 singles and doubles throughout college (1996-2000). As the Founder and Director of
Mental Edge Tennis
, he specializes in providing mental coaching services to competitive tennis players, ranging from club level players to top-ranked juniors, and including WTA and ATP tour professionals. In addition to conducting individual and group mental coaching sessions, he also does consultant work and speaking engagements.