Showcase Announcement
Eastern College Showcase Day to be held November 10
Press Release, 27 October 2013
Register for the Eastern College Showcase Day
The USTA Eastern Section is excited to announce its annual College Showcase Day which will be held at the Holiday Inn in Mt. Kisco, N.Y. on Sunday, November 10.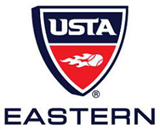 If you are a player, you can learn more about the college tennis process and connect better with college coaches including the USTA Eastern Tournament for High School Seniors and the Eastern College Tennis Showcase for High School Juniors.
College coaches get the opportunity to recruit and get exposure for their tennis programs.
All high school students will also walk away with a handy resource guide that includes what you need to know about the tennis recruitment process.
Click here to register, find out what schools are attending, and check out the schedule for the College Showcase.
To register for the camp, please visit www.eastern.usta.com.
The USTA Eastern Section, based in White Plains, New York, is a not-for-profit community service organization whose mission is to promote and develop the growth of tennis. The section encompasses all of New York State, Northern New Jersey and Greenwich, Connecticut. It is one of 17 geographic sections of the United States Tennis Association, the governing body of tennis in the United States, and supports more than 49,000 members. The section also establishes and maintains rules of fair play, high standards of sportsmanship and represents, in its jurisdiction, the programs and policies of the USTA. More information about the USTA Eastern section is available by visiting: www.eastern.usta.com.
Leave a Comment
More Special Features
24-Jan-2014
Eight Intriguing Questions for 2014
Tennis Recruiting enters its ninth year in 2014, and this January we feature the ninth straight edition of "Intriguing Questions" from columnist Colette Lewis. Lewis asks eight questions about junior and college tennis that should reveal their answers over the next twelve months.
20-Jan-2014
College Format Changes - The Vote of 21-19
The scoring system in tennis is one of its most sacred heirlooms. When the ITA (Intercollegiate Tennis Association) had its annual convention and coaches meeting in December, the hottest and the most pressing topic was the scoring system. Legendary tennis coach Chuck Kriese reviews highlights of the discussion - with his usual commentary.
13-Jan-2014
Previewing Inside College Tennis with Tony Minnis - Part II
A new television series - Inside College Tennis with Tony Minnis - premieres this week, Tuesday, January 14 at 9pm EST / 6pm PST on the Tennis Channel. And the entire tennis community should be very excited about the new program. We got the chance to talk with host and former LSU coach Tony Minnis about what we should expect to see...