Showcase Announcement
Newks College Showcase to be held November 23-24
Press Release, 3 November 2013
Players and Coaches - Attend the John Newcombe College Showcase Weekend November 23-24!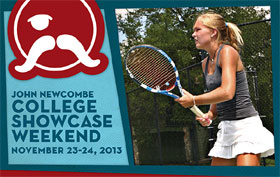 Newks College Showcase gives coaches the perfect opportunity to meet and watch potential recruits compete. Exposure between college coaches and players can be challenging, and this is the time of year most high school juniors begin looking into colleges tennis programs.
Over the weekend, you will have many opportunities to interact with our players:
Point, Set and Match play
Team tennis format in both singles and doubles
Fitness Sessions
Live ball drills
Q&A Sessions
Three meals on-site
Open to all players as well as Division II, III and Junior College Coaches
Don't miss this chance to get a head start recruiting your team! For more details, and to find out who will be attending, please email Phil Hendrie at academy@newktennis.com.
Click here to learn more and to register online.
Please feel free to pass this information to current recruits whom you may want to watch in action.
Leave a Comment
More Special Features
24-Jan-2014
Eight Intriguing Questions for 2014
Tennis Recruiting enters its ninth year in 2014, and this January we feature the ninth straight edition of "Intriguing Questions" from columnist Colette Lewis. Lewis asks eight questions about junior and college tennis that should reveal their answers over the next twelve months.
20-Jan-2014
College Format Changes - The Vote of 21-19
The scoring system in tennis is one of its most sacred heirlooms. When the ITA (Intercollegiate Tennis Association) had its annual convention and coaches meeting in December, the hottest and the most pressing topic was the scoring system. Legendary tennis coach Chuck Kriese reviews highlights of the discussion - with his usual commentary.
13-Jan-2014
Previewing Inside College Tennis with Tony Minnis - Part II
A new television series - Inside College Tennis with Tony Minnis - premieres this week, Tuesday, January 14 at 9pm EST / 6pm PST on the Tennis Channel. And the entire tennis community should be very excited about the new program. We got the chance to talk with host and former LSU coach Tony Minnis about what we should expect to see...