News & Features
Tournament Schedule
USTA/ITA Campus Showdown Schedule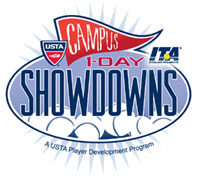 The USTA is teaming with the ITA to promote Campus Showdowns on college campuses throughout the United States. Campus Showdowns are one-day, short-format tournaments open to juniors, college players, professionals, and adults. These events give junior players a chance to compete against college competition on a college campus.
Learn more about these Showdowns here, and then check the schedule below to find a Showdown in your area - or at a school of interest for you. Just email the listed tournament director for more information.
Leave a Comment
More Special Features
24-Nov-2013
WAM Sports College Showcase to be held December 5-6
The WAM Sports College Tennis Camp and Showcase is a great way to get exposed to and recruited by 40+ U.S. college tennis coaches. College coaches from all divisions across country will be in attendance to educate you about the college tennis recruiting process and spend time with you on court.
22-Nov-2013
College Tennis Camps and Showcases - A Must for College-Bound Prospects
What are College Tennis Camps and Showcases? Who are they for? What can they do for me? Junior tennis players, parents and coaches alike often do not know much about either type of event. Therefore, they are hesitant and unsure of the benefits. But the chance to talk to a college coach, to be scouted and educated by them, to even be recruited by college coaches is always a valuable experience for any student athlete, regardless of who you are.
3-Nov-2013
Newks College Showcase to be held November 23-24
Newks College Showcase gives coaches the perfect opportunity to meet and watch potential recruits compete. Exposure between college coaches and players can be challenging, and this is the time of year most high school juniors begin looking into colleges tennis programs.