News & Features
Event Schedule
USTA Campus Kids' Days Schedule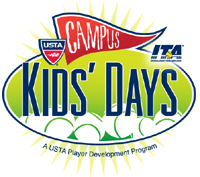 College tennis matches can be very exciting, and the USTA is working with college coaches to find ways to expose college varsity tennis to more junior players. The USTA has announced a new program to increase this exposure:
Campus Kids' Days
.
Across the country, each college coach will select a team match that junior players in the local community are encouraged to attend. The atmosphere should be great - in addition to the tennis, there will be free food, refreshments, and activities. There should be something for everyone.
Learn more about Campus Kids' Days here, and then check the schedule below to find matches in your area - or at a school that interests you. Just email the listed coach for more information.
Leave a Comment
More Special Features
19-May-2013
National Showcase Tournament Update
As we head into the back half of May, there are a number of upcoming tournaments in our National Showcase Series - two of which have entries closing in the next week. If you are looking for an opportunity to compete outside of your section - which will earn you credit towards a Tennis Recruiting ranking - consider a National Showcase Tournament.
9-May-2013
Ramp It Up - New Academy Opens in Southern California
The Home Depot Center in Carson, California, site of the USTA Training Center-West, has a new source of activity this spring with the opening of the RAMP Tennis Academy.
6-Feb-2013
Teah Flynn Organizes Groundbreaking Tennis Relay
For a 15 year old, Teah Flynn has done more community service than most adults, logging hundreds of volunteer hours raising funds for charities, walking dogs owned by disabled people, and producing PSAs. On February 9, Flynn, a two-star sophomore from Farmington, Arkansas, will host her most ambitious volunteer project so far - a Tennis Relay to raise money for genomic cancer research.