Getting Started
Countdown: Signing Day, NLI - What Does It Mean?
by
Dede Allen
, 31 March 2010
Last November, TennisRecruiting.net had one of its biggest weeks in terms of visitors during the Fall Signing Period. And in just a couple weeks, we will do it all again - we kick off our Spring Countdown to Signing Day coverage. But what does it all mean? Dede Allen breaks down terms like 'Signing Day' and 'National Letter of Intent'.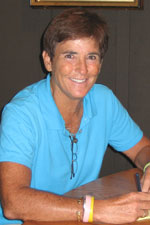 What is National Letter of Intent (NLI)?
The NLI is a binding contract between the student-athlete and a particular college or university (not the coach). By signing a National Letter of Intent, a prospective student-athlete agrees to attend that school for one full academic year. 612 Division I and II schools participate in this voluntary program.
The Collegiate Commissioners Association provides oversight to the program. The NLI is NOT mandatory with regard to the institutions or the student-athletes. No one is required to sign the NLI, neither prospective student-athlete nor parent. No institution is required to join the program. However, with over 600 participating schools, it is truly a national program, with the exception of the Ivy League and Service Academies.
DIII, NAIA, junior or community colleges do not participate in this program.
What do I agree to when I sign a National Letter of Intent?
You not only agree to attend the designated school, the school agrees to provide you with financial aid for one full academic year as a full-time student. Scholarships are a one year renewable contract, not a four year contract. You only need to sign the NLI once.
Once you sign the letter, you should notify any other institutions that you have signed, and they should cease recruiting you.
What if I don't stay for one full academic year?
If you don't meet that requirement at the initial signing school, you may not compete at another institution until you have completed one full academic year in residence at the latter school. You will also be charged with the loss of one season of intercollegiate athletics competition in ALL sports. This is in addition to any seasons of competition expended at any institution.
If I sign the NLI, does this guarantee a position on the team or that I will play?
No, the only guarantee is that the institution will provide you with athletics financial aid. You must earn your position on the team.
Do I have to sign the NLI?
No, you are not required to sign the NLI, but many players do, because it "creates a certainly in the recruiting process" according to the NCAA. Remember, other schools are no longer allowed to recruit you, once you notify them that you have signed.
What if I didn't sign in November?
There are two signing periods. The early signing was November 11-18, 2009. The spring signing period is April 14 to August 1, 2010. When you receive NLI paperwork, there is a 14-day time frame for you and your parents to sign the NLI, otherwise it becomes invalid. If it expires, another NLI may be issued within the appropriate signing period. If you are not 110% sure, you should probably wait.
Can I sign with a DII school after I've signed with a DI school?
No. Basically, it's not a DI versus DII school issue; but it is an issue as to whether or not the schools are participating members of the NLI.
Can I make a verbal commitment to one school and sign with another?
Yes. A verbal commitment means that your intentions are to attend a particular school - it is non-binding. Both student-athletes and institutions can (and often do) change their minds at the last minute. Once the NLI is signed and you are accepted to the school, it is a binding contract.
Whatever you do - READ all the provisions in the NLI BEFORE you sign it!
Contact Dede Allen at dede@ddasports.com for further information.
Leave a Comment
More Recruiting 101 Articles
11-Dec-2013
Open Letter to Prospective Student-Athletes
The process of searching for the right college and the right tennis program can be stressful. There are so many choices and variables, and finding the right fit, making campus visits, filling out applications, and taking care of your academics and tennis can be overwhelming. Enjoy the process - but take it seriously.
2-Dec-2013
Why Division I?
If you talk to most people about college athletics they think of Division I sports. Even people who do not follow sports know about March Madness and the BCS Championships. Top juniors dream of playing Division I college tennis. So what do Division I college coaches have to say about Division I tennis?
15-Nov-2013
Fall Signing Week '13: Fall Scheduling in College - Part 2
In college tennis, fall competition normally focuses on player development. Last month, we asked college coaches about their goals and philosophies for the fall season, and we published answers from a half-dozen coaches. Today we hear comments from more coaches on the topic.
About Dede Allen
Dede Allen
is a world-renowned college recruiting expert who is intimately familiar with both college and junior tennis. Allen was head coach of the Wake Forest University women's tennis team for seven years, and she was named ACC Coach of the Year in 1987. Since her college coaching days, Allen served the USTA for over 14 years as Administrator for USA Tennis Junior Competition and liaison to the NCAA, NAIA, and NJCAA. Allen is the author of three books on recruiting, including the
USTA Guide for Prospective College Athletes
, the recently-revised
Collegiate Guide for High School Tennis Players
, and the
Collegiate Guide for High School Athletes
. Today, Allen presents seminars throughout the country to prospective college tennis players.
Allen writes a periodic column at TennisRecruiting.net where she provides advice and answers your questions. You can submit a question to Dede for her to answer directly - or in a future column.