Special Announcement
Tennis Manga Graphic Novel to Benefit Agassi Foundation
by Press Release, 11 May 2010
Announcing the availability of graphic novel Aced, Volume One: Tennis Manga. All proceeds will be donated to the Andre Agassi Foundation for Education.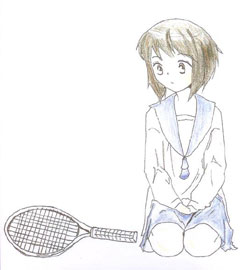 Created by
Catherine Chen
, a sixteen-year old USTA junior competitor from Southern California, this manga series follows the journey of a Japanese fifth grade student and her fun-filled tennis career. She is a total novice, but with her coach, a pro who had to retire due to injuries, and her supportive best friend, things are going to get interesting!
Check out Aced, Volume One here. You can see the front and back covers, and sample pages, and order from the secured shopping cart run by Yutopian Enterprises, a well established publisher.
The Andre Agassi Foundation for Education has raised millions of dollars for charity and has done wonderful work to transform public education for the underserved. All proceeds from the sale of this book will be donated to the Foundation.
Leave a Comment
More Special Features
2-Feb-2014
USTA College MatchDay Schedule
The USTA is sponsoring College MatchDay - a nationwide series featuring college dual tennis matches. The 2014 series will feature 22 matches on eighteen different campuses, and ten of the matches will be carried live on ESPN3. Check out the complete series schedule.
24-Jan-2014
Eight Intriguing Questions for 2014
Tennis Recruiting enters its ninth year in 2014, and this January we feature the ninth straight edition of "Intriguing Questions" from columnist Colette Lewis. Lewis asks eight questions about junior and college tennis that should reveal their answers over the next twelve months.
20-Jan-2014
College Format Changes - The Vote of 21-19
The scoring system in tennis is one of its most sacred heirlooms. When the ITA (Intercollegiate Tennis Association) had its annual convention and coaches meeting in December, the hottest and the most pressing topic was the scoring system. Legendary tennis coach Chuck Kriese reviews highlights of the discussion - with his usual commentary.