Special Announcement
Tennis Manga Graphic Novel to Benefit Agassi Foundation
by Press Release, 11 May 2010
Announcing the availability of graphic novel Aced, Volume One: Tennis Manga. All proceeds will be donated to the Andre Agassi Foundation for Education.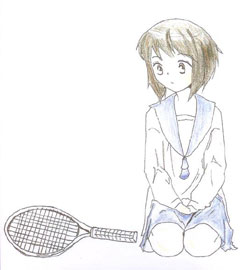 Created by
Catherine Chen
, a sixteen-year old USTA junior competitor from Southern California, this manga series follows the journey of a Japanese fifth grade student and her fun-filled tennis career. She is a total novice, but with her coach, a pro who had to retire due to injuries, and her supportive best friend, things are going to get interesting!
Check out Aced, Volume One here. You can see the front and back covers, and sample pages, and order from the secured shopping cart run by Yutopian Enterprises, a well established publisher.
The Andre Agassi Foundation for Education has raised millions of dollars for charity and has done wonderful work to transform public education for the underserved. All proceeds from the sale of this book will be donated to the Foundation.
Leave a Comment
More Special Features
8-Dec-2013
The Invaluable Experience - New Kindle Book by Lao and Limpert
Reflecting on her successful college tennis career, Danielle Lao, a two-time All-American at USC thought she might have some valuable information to share with others either enrolled at colleges and universities around the country, thinking about playing college sports, or even sports fans wondering what the college experience is like for a elite athlete. With the help of Rick Limpert, Lao has
24-Nov-2013
WAM Sports College Showcase to be held December 5-6
The WAM Sports College Tennis Camp and Showcase is a great way to get exposed to and recruited by 40+ U.S. college tennis coaches. College coaches from all divisions across country will be in attendance to educate you about the college tennis recruiting process and spend time with you on court.
22-Nov-2013
College Tennis Camps and Showcases - A Must for College-Bound Prospects
What are College Tennis Camps and Showcases? Who are they for? What can they do for me? Junior tennis players, parents and coaches alike often do not know much about either type of event. Therefore, they are hesitant and unsure of the benefits. But the chance to talk to a college coach, to be scouted and educated by them, to even be recruited by college coaches is always a valuable experience for any student athlete, regardless of who you are.