Special Announcement
Tennis Manga Graphic Novel to Benefit Agassi Foundation
by Press Release, 11 May 2010
Announcing the availability of graphic novel Aced, Volume One: Tennis Manga. All proceeds will be donated to the Andre Agassi Foundation for Education.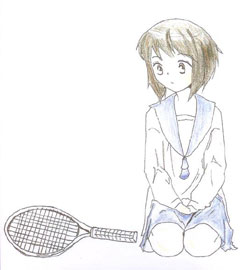 Created by
Catherine Chen
, a sixteen-year old USTA junior competitor from Southern California, this manga series follows the journey of a Japanese fifth grade student and her fun-filled tennis career. She is a total novice, but with her coach, a pro who had to retire due to injuries, and her supportive best friend, things are going to get interesting!
Check out Aced, Volume One here. You can see the front and back covers, and sample pages, and order from the secured shopping cart run by Yutopian Enterprises, a well established publisher.
The Andre Agassi Foundation for Education has raised millions of dollars for charity and has done wonderful work to transform public education for the underserved. All proceeds from the sale of this book will be donated to the Foundation.
Leave a Comment
More Special Features
19-May-2013
National Showcase Tournament Update
As we head into the back half of May, there are a number of upcoming tournaments in our National Showcase Series - two of which have entries closing in the next week. If you are looking for an opportunity to compete outside of your section - which will earn you credit towards a Tennis Recruiting ranking - consider a National Showcase Tournament.
9-May-2013
Ramp It Up - New Academy Opens in Southern California
The Home Depot Center in Carson, California, site of the USTA Training Center-West, has a new source of activity this spring with the opening of the RAMP Tennis Academy.
6-Feb-2013
Teah Flynn Organizes Groundbreaking Tennis Relay
For a 15 year old, Teah Flynn has done more community service than most adults, logging hundreds of volunteer hours raising funds for charities, walking dogs owned by disabled people, and producing PSAs. On February 9, Flynn, a two-star sophomore from Farmington, Arkansas, will host her most ambitious volunteer project so far - a Tennis Relay to raise money for genomic cancer research.