TOP PROSPECTS
Boys' Class of 2014 - Juniors
As of Monday, 3/11/2013




| | | | | | | | | | | | | |
| --- | --- | --- | --- | --- | --- | --- | --- | --- | --- | --- | --- | --- |
| View: | | Blue Chip | | 5-Star | | 4-Star | | 3-Star | | 2-Star | | 1-Star |





| Rating | Name | City | State |
| --- | --- | --- | --- |
| | Adams, Henry | New Braunfels | TX |
| | Ahuja, Siddarth | Gates Mills | OH |
| | Alcafaras, Jenteel | Long Beach | CA |
| | Alderson, Matthew | Bainbridge Island | WA |
| | Alenikov, Michael | Rossmoor | CA |
| | Allen, Nicholas | Green Bay | WI |
| | Alper, Kyle | Dix Hills | NY |
| | Ananthanpillai, Raman | Potomac | MD |
| | Anderson, Joey | Thompson | ND |
| | Appel, Dylan | Locust Valley | NY |
| | Aragon, German | Chula Vista | CA |
| | Aronson, James | Waccabuc | NY |
| | Aten, Austin | Champaign | IL |
| | Barajas, Jaime | Los Angeles | CA |
| | Barrere, Kimo | Poway | CA |
| | Barrios, Manfred | Golden Valley | MN |
| | Bayh, Nicholas | Washington | DC |
| | Beatty, Peter | Portland | OR |
| | Benson, Gus | Richmond | KY |
| | Berkowitz, Ted | Fairfield | CT |
| | Berry, Daniel | San Antonio | TX |
| | Beynars, Anatoliy | Sacramento | CA |
| | Birkenfeld, Ben | Tenafly | NJ |
| | Birnbaum, Jacob | Memphis | TN |
| | Braksator, Alex | Corona | CA |
| | Brandon, Trent | Little Rock | AR |
| | Brittis-Tannenbaum, Dylan | Bedford Hills | NY |
| | Brogan, Justin | Falmouth | ME |
| | Brown, David | Snellville | GA |
| | Brown, Grant | Colleyville | TX |
| | Burdett, David | Duluth | GA |
| | Burke, Connor | Columbia | SC |
| | Burrus, Justin | Spring Lake | NJ |
| | Bush, David | Ashland | KY |
| | Buurma, William | Bradenton | FL |
| | Cairns, Tyler | Slidell | LA |
| | Campana, Matthew | Hillsborough | CA |
| | Candelario, Jonah | San Antonio | TX |
| | Cardiff, Daniel | Lafayette | CA |
| | Carrillo, Christian | Dallas | TX |
| | Cepelewicz, Ari | Cos Cob | CT |
| | Chadalavada, Kalyan | Goodlettsvlle | TN |
| | Chaffin, Samuel | Tampa | FL |
| | Chen, Jeffery | Sugar Land | TX |
| | Chen, Jeffrey | Carmel | IN |
| | Chen, Tytus | Los Altos | CA |
| | Cheng, Tommy | Cupertino | CA |
| | Christian, Scott | Lake Forest | IL |
| | Connolly, Andrew | Highland Village | TX |
| | Cooke, Connor | Summerfield | NC |
| | Cosmai, Tomas | Franklin Lks | NJ |
| | Countee, Kasey | Cheltenham | MD |
| | Crnogorac, Alek | Tampa | FL |
| | Cunningham, Nickolas | Litchfield Park | AZ |
| | Cupino, Gabriel | Cerritos | CA |
| | Damen, Jack | Carpinteria | CA |
| | Dave, Eshan | Southlake | TX |
| | Delp, John | Holland | OH |
| | Dewitt, Peter | Horsham | PA |
| | Dillon, Ernesto | Mountainville | NY |
| | Domanski, Paul | New Braunfels | TX |
| | Donovan, Raymond | Bogart | GA |
| | Drumwright, Will | Cypress | TX |
| | Dulle, Joey | Clayton | MO |
| | Dykeman, Andrew | Leawood | KS |
| | Ekstein, Zachary | Eagan | MN |
| | Escobar, Camilo | Weston | FL |
| | Fenton, Adam | Middleburg | VA |
| | Finerty, Connor | Muskogee | OK |
| | Fisher, Jamie | Corvallis | OR |
| | Friedman, Brent | Dallas | TX |
| | Friedman, Chase | San Diego | CA |
| | Fryer, Zachary | Centennial | CO |
| | Gardner, Garrett | Poland | OH |
| | Gearou, Joshua | Zimmerman | MN |
| | George, Will | Lawrenceville | GA |
| | Gerber, Ben | Chapel Hill | NC |
| | Gleason, Bradley | Broken Arrow | OK |
| | Glickman, Rex | Chappaqua | NY |
| | Gloger, Weston | Pearland | TX |
| | Gordon, Joshua | Staten Island | NY |
| | Goth, Kevin | Wexford | PA |
| | Gupta, Dilan | Larchmont | NY |
| | Hale, Morgan | Santa Barbara | CA |
| | Halstrom, Jared | Bellmore | NY |
| | Hart, Colin | Stanford | KY |
| | Harvie, Matthew | Grayson | GA |
| | Hazlett, Peter | Pittsburgh | PA |
| | Heidenberg, Jonathan | Tampa | FL |
| | Heinz, Austin | Daniel Island | SC |
| | Hewlin, Zachary | Los Gatos | CA |
| | Hills, Langford | Atlanta | GA |
| | Ho, Gary | Coquitlam | BC |
| | Holman, Hunter | Dallas | TX |
| | Hughes, Nelson | Lakeland | FL |
| | Hummel, Samuel | Studio City | CA |
| | Hurry, Alastair | Corona Del Mar | CA |
| | Jacob, John | Austin | TX |
| | Jiaqi, Duan | Valley Center | CA |
| | Josepher, Alec | Tampa | FL |
| | Kaganov, Eli | Waban | MA |
| | Kaufman, Jonathan | Centennial | CO |
| | Kendall, Brooks | Prairie Village | KS |
| | Kennedy, Sam | Atlanta | GA |
| | Kim, Alexander | Milford | MI |
| | King, Cassell | Henderson | NV |
| | King, John | San Antonio | TX |
| | Koca, Alex | Leawood | KS |
| | Koehrsen, William | Germantown Hills | IL |
| | Kolb, Jakob | Melbourne | FL |
| | Koulouris, Steven | Long Island City | NY |
| | Kupin, Aaron | Boca Raton | FL |
| | Kwiatkowski, Joe | Renton | WA |
| | Lafavre, Connor | Dallas | TX |
| | Landrau-Villavetia, Moises | San Juan | PR |
| | Latychev, Alexandre | Aventura | FL |
| | Lawrence, Kohlman | Dorchestr Ctr | MA |
| | Lebedev, Alexander | Mason | OH |
| | Lee, Matthew | Austin | TX |
| | Leiner, Joshua | Baltimore | MD |
| | Li, Gordon | Johns Creek | GA |
| | Lilley, Bryan | Edmond | OK |
| | Limhengco, Winston | Sacramento | CA |
| | Loh, Alexander | Thousand Oaks | CA |
| | Lorenz, Luke | Colorado Springs | CO |
| | Lortie, Cade | Mesa | AZ |
| | Lowenthal, Grayson | Savannah | GA |
| | Lugtu, Ryan | Paramus | NJ |
| | Majkic, Andrey | Jacksonville | FL |
| | Malech, Samuel | Portland | OR |
| | Martin, Joshua | Foley | AL |
| | Massie, Tucker | Bloomfield Hills | MI |
| | Massinople, Ryan | Charleston | WV |
| | McDonald, Maxwell | Summit | NJ |
| | McPherson, Connor | Centennial | CO |
| | Melendez, Elijah | Suwanee | GA |
| | Melvin, Jeffrey | Columbus | OH |
| | Mesmer, Fred | Kensington | MD |
| | Metz, David | Tampa | FL |
| | Meyer, Christopher | Rancho Santa Fe | CA |
| | Mierloi, Mark | Port Orange | FL |
| | Mills, Brandon | Lilburn | GA |
| | Motz, Judd | Norcross | GA |
| | Mounger, Robert | Jackson | MS |
| | Moyer, Daniel | Kalamazoo | MI |
| | Mullins, Conor | Lloyd Harbor | NY |
| | Musyoka, Matthew | Parlin | NJ |
| | Ngo, Sean | Silver Spring | MD |
| | Noall, Weston | Solon | OH |
| | Nogalski, John | Overland Park | KS |
| | O'Kelly, Connor | Lake Forest | IL |
| | Oetting, Blake | Iowa City | IA |
| | Oloko, Toni | Norwood | MA |
| | Omsky, David | Aventura | FL |
| | Ong, Andrew | Copley | OH |
| | Ortiz-Garcia, Jorge Emanuel | Trujillo Alto | PR |
| | Owen, Davis | Tunica | MS |
| | Paris, Jonathan | Cold Spring Harbor | NY |
| | Pate, Devon Tyler | Lake Alfred | FL |
| | Patel, Rishi | Bloomfield Hills | MI |
| | Phelps, Matthew | Catonsville | MD |
| | Pozo, Alexander | Chesterfield | MO |
| | Rangga, Richard | Clifton | NJ |
| | Rapoport, Adam | West Hills | CA |
| | Rapoport, Gabriel | Malibu | CA |
| | Reinke, Alexander | Bethesda | MD |
| | Renzi, Matthew | Pittsford | NY |
| | Richards, Joey | Eden Prairie | MN |
| | Rive, Alexander | FtWorth | TX |
| | Roddy, Gilbert | Concord | MA |
| | Rothman, Max | Encino | CA |
| | Ruder-Hook, Jesse | Denver | CO |
| | Sadowsky, Jordan | Rancho Santa Fe | CA |
| | Samson, Joachim | Makati City | |
| | Scammahorn, Hunter | Tyler | TX |
| | Scheffers, Kyle | Flossmoor | IL |
| | Schlanger, Kyle | Summerfield | NC |
| | Shives, T. | Rochester | MN |
| | Simakov, Antony | Bradenton | FL |
| | Singer, Miles | Stamford | CT |
| | Small, Karlyn | Phoenixville | PA |
| | Smith, Creel | Jackson | WY |
| | Smith, Henry | Mercer Island | WA |
| | Song, Michael | Plainsboro | NJ |
| | Surmacz, Zachary | Las Vegas | NV |
| | Taco, Kevin | Miami | FL |
| | Tai, Eric | Bridgewater | NJ |
| | Terrell, Branch | Benton | AR |
| | Thomas, Jack | Charlottesville | VA |
| | Thompson, Justin | Laguna Niguel | CA |
| | Tioutine, Gene | Rockaway | NJ |
| | Tran, Aaron | Garland | TX |
| | Tran, Michael | Albuquerque | NM |
| | True, Will | Bowling Green | KY |
| | Turner, Will | Charlotte | NC |
| | Tyer, Matt | Hewitt | TX |
| | Ullal, Nihar | Alpharetta | GA |
| | Valko, Nicholas | San Clemente | CA |
| | Vatanadilok, Joey | San Antonio | TX |
| | Vega, Jaime | Gurabo | PR |
| | Verellen, Thomas | High Point | NC |
| | Viallaneix, Arthur | Winter Park | FL |
| | Walker, Logan | Palm City | FL |
| | Weinstein, Garrett | Owings Mills | MD |
| | Weisser, Andrew | Acworth | GA |
| | West, Avery | Bellingham | WA |
| | Whalen, Luke | Roseville | CA |
| | Wise, Tristan | Lakeway | TX |
| | Wojtalik, Luke | Indianapolis | IN |
| | Wydra, Ryan | Cornelius | NC |
| | Yamamoto, Naomichi | Carlsbad | CA |
| | Yang, Brandon | San Diego | CA |
| | Zhang, Justin | Irvine | CA |
| | Zhang, Richard | Troy | MI |
| | Zheng, Daniel | Alpharetta | GA |
| | Zheng, March | Leawood | KS |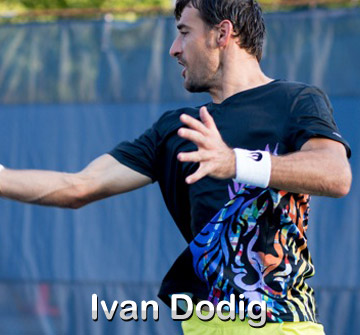 Click on Ivan Dodig to view and buy his equipment, apparel, and footwear.

1 more hour till #TWHappyHour is over! Get your drink, err, product orders in while you can!

Click Here!

Share the #TWHappyHour discount with your friends! Retweet this!

Click Here!

@Solfireworld apparel is 35% off! Along w/ shoes, racquets and more! Right now till 6pm Pacific. Go now:

Click Here!


Follow college tennis with the ITA - the governing body that oversees all levels of men's and women's varsity collegiate tennis.
Weil Tennis Academy
For the past sixteen years in Ojai, California, the Weil Tennis Academy has steadily built a program whose focus is developing competitive players into Champions!
Tennis Warehouse provides lively forums for the discussion of junior and college tennis. Here are the latest topics from the Talk Tennis message boards.