TOP PROSPECTS
Boys' Class of 2017 - Freshmen
As of Monday, 9/16/2013




| | | | | | | | | | | | | |
| --- | --- | --- | --- | --- | --- | --- | --- | --- | --- | --- | --- | --- |
| View: | | Blue Chip | | 5-Star | | 4-Star | | 3-Star | | 2-Star | | 1-Star |





| Rating | Name | City | State |
| --- | --- | --- | --- |
| | Adams, Christopher | Port Huron | MI |
| | Aizenberg, David | Highland Park | IL |
| | Akhtar, Brian | Vestavia Hills | AL |
| | Alatorre, Patricio | Katy | TX |
| | Ampudia, Pablo | San Antonio | TX |
| | Aninon, Rougel Jon | Jacksonville | FL |
| | Antonsen, Ben | Highlands Ranch | CO |
| | Ash, Benjamin | Alpharetta | GA |
| | Baehr, Jacob | Pensacola | FL |
| | Batalla, Juan | Irvine | CA |
| | Bellamy, Britton | Myrtle Beach | SC |
| | Belovs, Daniel | Matthews | NC |
| | Bendalin, Jacob | Dallas | TX |
| | Bernstein, John | La Grange | IL |
| | Biondi, Lucas | Purchase | NY |
| | Blankinship, Dawson | Plano | TX |
| | Block, Stewart | West Vancouver | BC |
| | Bloss, Justin | El Paso | TX |
| | Bozsik, Spencer | Charlottesville | VA |
| | Bradley, Cole | West Lafayette | IN |
| | Brown, Stratton | Salina | KS |
| | Brown, William | Sumter | SC |
| | Budiono, Ethan | Sussex | WI |
| | Cabral, Guillermo | Guaynabo | PR |
| | Cachapero, Patrick | Loma Linda | CA |
| | Camacho, Gilberto | Austin | TX |
| | Carter, Blake | Raleigh | NC |
| | Chen, Matthew | Wynnewood | PA |
| | Chesnov, Dimitriy | Coral Gables | FL |
| | Chow, Aaron | San Diego | CA |
| | Chung, Calvin | Bronx | NY |
| | Chung, Gilbert | Los Angeles | CA |
| | Claussen, William | Norcross | GA |
| | Clemente III, Peter | Palm Springs | CA |
| | Coleman, Malachi | Los Ranchos | NM |
| | Coramutla, Anupreeth | Monroe Township | NJ |
| | Cory, Randy | Salinas | CA |
| | Daly, Reese | Boca Raton | FL |
| | Danielson, Frederick | Memphis | TN |
| | Das, Nikhil | East Greenwich | RI |
| | Das, Rahul | Marietta | GA |
| | Davis, Jack | Coquitlam | BC |
| | Davison, Drew | Montara | CA |
| | Decasa, John Bryan | Cerritos | CA |
| | Delgado, Joaquin | McAllen | TX |
| | Demacar, Lutwin | Bradenton | FL |
| | Draheim, Brady | Omaha | NE |
| | Eckhard, Ethan | Lakewood Ranch | FL |
| | Fleischman, Zachary | Medina | WA |
| | Francis, Max | West Barnstable | MA |
| | Fujino, Masahiro | Summerfield | NC |
| | Gahn, Jakob | Bloomfield Hills | MI |
| | Gajardo, Benjamin | Las Vegas | NV |
| | Garcia, Ignacio | San Juan | PR |
| | Gargas, Tyler | Ottawa Hills | OH |
| | Garramone, Max | FtMyers | FL |
| | Ghassemi, Ryan | San Diego | CA |
| | Giraldo, Miguel | Weston | FL |
| | Gonzalez, Romare | Doral | FL |
| | Gota, Paul | Moreland Hills | OH |
| | Gramatikov, George | Vestal | NY |
| | Green, Max | West Hollywood | CA |
| | Griesedieck, Eddie | Saint Louis | MO |
| | Grijalva, Mauricio | Chandler | AZ |
| | Guo, Adam | Redmond | WA |
| | Gupta, Sanchit | San Diego | CA |
| | Ha, Kevin | Carpinteria | CA |
| | Harrison, Hunter | Little Rock | AR |
| | Harvey, Matthew | Lake Forest | IL |
| | Harwell, George | Nashville | TN |
| | Hassey, Carlos | Surprise | AZ |
| | Hidalgo, Felipe | Medley | FL |
| | Hochberger, Samuel | Maple Grove | MN |
| | Hoegstedt, Karl | West Chester | PA |
| | Hollingsworth, Eric | Richmond | IN |
| | Hoover, Draden | Aurora | CO |
| | Hsia, Joshua | Twinsburg | OH |
| | Hum, Sam | La Jolla | CA |
| | Huynh, Kevin | Alpharetta | GA |
| | Imrie, Andrew | Andover | MA |
| | Iyer, Aditya | Port Saint Lucie | FL |
| | Jalali, Dariush | Rancho Palos Verdes | CA |
| | Jayaraman, Arjith | Gold River | CA |
| | Johnson, Austin | Exeter | CA |
| | Johnson, Kaleb | Bakersfield | CA |
| | Jung, Jiung | Iowa City | IA |
| | Kalra, Armaan | Tiburon | CA |
| | Kaynor, James | Austin | TX |
| | Kelly, Sean | Lakeville | MN |
| | Kennedy, Robert | New York | NY |
| | Kennedy, Thomas | Omaha | NE |
| | Kenyatte, Kweisi | Detroit | MI |
| | Ketcham, Dillon | Omaha | NE |
| | Kim, Seth | San Diego | CA |
| | Kim, Woojae | Sunnyvale | CA |
| | Kiselov, Vasyl | Bradenton | FL |
| | Kissee, Hayden | Allen | TX |
| | Kohrs, Zane | Dallas | TX |
| | Kontaxis, Christian | Rancho Mirage | CA |
| | Kring, Taylor | Granite Bay | CA |
| | Krishnan, Pranav | Edison | NJ |
| | Kros, Ryan | Fairfax | VA |
| | Kuhlman, Jake | Grand Forks | ND |
| | Kumar, Satish | Edison | NJ |
| | Kuperstein, Alex | Palm Desert | CA |
| | Kurzban, Max | Overland Park | KS |
| | Lalovic, Stefan | Las Vegas | NV |
| | Landa, Daniel | San Francisco | CA |
| | Lee, Jacob | Yorba Linda | CA |
| | Lewis, Ryan | Modesto | CA |
| | Li, Yifei | Westfield | IN |
| | Libnic, Andre | Coral Gables | FL |
| | Lingard, Cecil | Madison | WI |
| | Loan, Tye | Bremerton | WA |
| | Loftis, William | Dallas | TX |
| | Long, Cooper | Hixson | TN |
| | Lopez Torres, Guillermo | Toa Alta | PR |
| | Lorino, Jacob | Knoxville | TN |
| | Mabee, Neil | Houston | TX |
| | Mackie, Aaron | Flower Mound | TX |
| | Maffa, Benjamin | Lexington | MA |
| | Manahan, Didrick | Plainsboro | NJ |
| | Marchenko, Nicholas | Trumbull | CT |
| | Marshall, Jacob | Bristol | TN |
| | Martinez, Daniel | Coral Gables | FL |
| | Massart, John | Elm Grove | WI |
| | Matisse, Alex | Clarkston | MI |
| | McDevitt, William | Bryn Mawr | PA |
| | McNeel, Alex | Marietta | GA |
| | Militzer, Mark | Mount Pleasant | SC |
| | Mills, Michael | Wilmington | NC |
| | Millsaps, Hunter | Knoxville | TN |
| | Montoya, Yvan | El Paso | TX |
| | Montufar, Santiago | San Francisco | CA |
| | Morrow, Noah | Stevenson Ranch | CA |
| | Mueller, Ryan | Naples | FL |
| | Nagaraj, Rohit | Terre Haute | IN |
| | Namba, Payton | Bellevue | WA |
| | Nguyen, Quang | Reston | VA |
| | Nguyen, Vinnie | Tacoma | WA |
| | Nino, Philippe | Long Beach | MS |
| | Nomura, Daniel | Walnut Creek | CA |
| | Olps, Ryan | Sugar Hill | GA |
| | Pathi, Sumukh | Westborough | MA |
| | Peneff, Mark | Calabasas | CA |
| | Perez, Juan | Racine | WI |
| | Perkins, Matthew | West Linn | OR |
| | Pezzullo, Aaron | Woodbury | CT |
| | Phaterpekar, Kiran | Port Moody | BC |
| | Philips, Quashi | Houston | TX |
| | Phillips, Luke | Pittsburgh | PA |
| | Phuong, Matthew | Alexandria | VA |
| | Pinckney, Joshua | Atlanta | GA |
| | Prost, Ethan | Peoria | AZ |
| | Quinn, Michael | Portland | OR |
| | Quinn, Phillip | Dallas | TX |
| | Rabinowitz, Alec | Marina Del Rey | CA |
| | Rana, Arpit | Duncan | SC |
| | Ray, Chase | Roswell | GA |
| | Reasons, Harrison | Medina | TN |
| | Reich, Noah | Westfield | NJ |
| | Reusche, Alec | FtWorth | TX |
| | Roberts, Andrew | Virginia Beach | VA |
| | Rogers, Andrew | Brentwood | TN |
| | Roji, Adrian | New Hope | PA |
| | Roman, Darryl | Tulsa | OK |
| | Sands, R.J. | Pacific Palisades | CA |
| | Sardana, Rishab | Union City | CA |
| | Sauer, Griffin | Phoenix | AZ |
| | Schepel, Austin | Waxhaw | NC |
| | Schinkel, Spencer | Raleigh | NC |
| | Schrader, Joseph | Brevard | NC |
| | Schwartz, Ethan | Matthews | NC |
| | Schwartz, Joseph | Portland | OR |
| | Shannon, Clark | Frisco | TX |
| | Sharma, Parth | Torrance | CA |
| | Shenkiryk, Roman | Del mar | CA |
| | Shick, Collin | Greensboro | NC |
| | Simon, Robby | Bronxville | NY |
| | Sklizovic, Alex | Aiken | SC |
| | Smith, Kai | Denver | CO |
| | Smith, Michael | Houston | TX |
| | Smith, Roy | New Haven | CT |
| | Smith, Tristan | Wilmington | NC |
| | Smyth, Conor | Bethesda | MD |
| | Spolidorio, Victor | Peoria | IL |
| | Stofflet, Cole | Scottsdale | AZ |
| | Streller, Read | Edmond | OK |
| | Strickland, Stedman | Jackson | MS |
| | Swanson, Chethan | Folsom | CA |
| | Sweeney, Brandon | Bradenton | FL |
| | Tam, Curtis | San Gabriel | CA |
| | Thai, Mitchell | Galloway | OH |
| | Tien, Julian | Barrington | RI |
| | Trhac, Patrick | San Diego | CA |
| | Vasat, Mark | Camas | WA |
| | Verchere, Nicolas | Bellaire | TX |
| | Vinarski, Benjamin | Wexford | PA |
| | Vohra, Rajan | Glen Head | NY |
| | Wartenberg, Justin | Mission Viejo | CA |
| | Wei, James | Ossining | NY |
| | Welch, Jack | Potomac | MD |
| | Wenzel, Jacob | Huntersville | NC |
| | Whitehouse, Andrew | Westlake Village | CA |
| | Williams, Omar | Spartanburg | SC |
| | Wilson, Simon | Anderson | SC |
| | Winkler, Jack | Birmingham | MI |
| | Wong, Davis | West Bloomfield | MI |
| | Yakubov, Evan | Columbus | OH |
| | Yarlagadda, Naveen | Austin | TX |
| | Yoo, Joshua | Irvine | CA |
| | Yuan, Jeremy | Duluth | GA |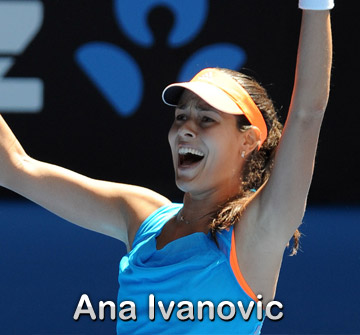 Click on Ana Ivanovic to view and buy her equipment, apparel, and footwear.


Follow college tennis with the ITA - the governing body that oversees all levels of men's and women's varsity collegiate tennis.
John Isner - I Play Prince
Get a behind the scenes look of John Isner play testing new racquets and in the midst of his training.
Tennis Warehouse provides lively forums for the discussion of junior and college tennis. Here are the latest topics from the Talk Tennis message boards.