TOP PROSPECTS
Boys' Class of 2018 - 8th Graders
As of Monday, 3/3/2014




| | | | | | | | | | | | | |
| --- | --- | --- | --- | --- | --- | --- | --- | --- | --- | --- | --- | --- |
| View: | | Blue Chip | | 5-Star | | 4-Star | | 3-Star | | 2-Star | | 1-Star |





| Rating | Name | City | State |
| --- | --- | --- | --- |
| | Agee, Michael | Johns Creek | GA |
| | Anukornchaikul, Naevin | Katy | TX |
| | Arimilli, Nevin | Austin | TX |
| | Arinc, Kaya | Charlotte | NC |
| | Ballesteros, Andres | West Hartford | CT |
| | Baturyn, Daniel | San Leandro | CA |
| | Beasley, Jake | Cumming | GA |
| | Benavides, Michael | San Antonio | TX |
| | Benson, Maxwell | Albany | NY |
| | Biernat, Connor | Columbus | OH |
| | Bonar, Vlad | FtMill | SC |
| | Bout, Scott | Los Gatos | CA |
| | Brailovsky, Joseph | North Potomac | MD |
| | Chao, Kevin | Needham | MA |
| | Chen, Jeffrey | Northfield | IL |
| | Chen, Justin | Coppell | TX |
| | Clur, Eugene | Pembroke Pines | FL |
| | Conron, Graham | Cortez | FL |
| | Crawford, Courage | Atlanta | GA |
| | Dave, Arman | Southlake | TX |
| | Dufort, Noah | Las Vegas | NV |
| | Esses, Andrew | Houston | TX |
| | Fenno, Brant | Mt. Pleasant | SC |
| | Fenty, Matthew | Washington | DC |
| | Fishkin, Gary | Staten Island | NY |
| | Foulkes, Harris | Belmont | MA |
| | Galvez, Jose | Alpharetta | GA |
| | Gandolfo, Joseph | Alpharetta | GA |
| | Garner, Finn | Amherst | MA |
| | Gibson, Sam | Chico | CA |
| | Gleason, William | Lincoln | NE |
| | Gollin, Benjamin | Redlands | CA |
| | Gonzalgo, Matthew | Plantation | FL |
| | Gooch, Dillon | Charlotte | NC |
| | Gorshein, David | Longwood | FL |
| | Grovas, Rafael | San German | PR |
| | Guidi, Lorenzo | Bay Harbor Islands | FL |
| | Hibi, Leo | Irvine | CA |
| | Horve, Lucas | Forsyth | IL |
| | Huang, Kevin | Chapel Hill | NC |
| | Huynh, Phuc | Honolulu | HI |
| | Irvine, Sahm | Rancho Palos Verdes | CA |
| | Jacobs, Ethan | New City | NY |
| | Jacobson, Benji | Bloomfield Hills | MI |
| | Janglin, Victor | Sarasota | FL |
| | Johnson, Casey | Kohler | WI |
| | Kalis, Parker | Westfield | IN |
| | Kavarana, Sam | Mount Pleasant | SC |
| | Keim, Bryce | Spartanburg | SC |
| | Keitelman, Joshua | Chevy Chase | MD |
| | Kelly, Jack | Hilton Head Island | SC |
| | Khamis, Yousef | Irvine | CA |
| | King, Joshua | Englewood | CO |
| | Komis, Samuel | Lake Zurich | IL |
| | Kopczynski, Tomas | Sleepy Hollow | NY |
| | Kotnana, Ramanaidu | Ellicott City | MD |
| | Kovacevic, Danilo | Park Ridge | IL |
| | Krapivin, Maxim | Pinecrest | FL |
| | Krill, Tyler | Geneva | IL |
| | Kumar, Pranav | Plano | TX |
| | Kush, Adam | Johnstown | PA |
| | Langman, Joshua | San Diego | CA |
| | Larichev, Nikita | Bellevue | WA |
| | Le, Pascal | Cary | NC |
| | Lee, Jack | Coral Gables | FL |
| | Leung, Andrew | Potomac | MD |
| | Lieb, Zachary | New York | NY |
| | Lilienthal, Noah | Princeton | NJ |
| | Madabhushi, Mukund | San Jose | CA |
| | Maloney, Patrick | Oyster Bay | NY |
| | Martinez, Hernany | Houston | TX |
| | Maughan, Harvey | Suwanee | GA |
| | Meier, Mason | Omaha | NE |
| | Melville, Tom | Boulder | CO |
| | Mkrtchian, Mike | Reseda | CA |
| | Mora, Antonio | Coconut Grove | FL |
| | Mora, Nicholas | Aventura | FL |
| | Morris, Stanley | Santa Monica | CA |
| | Otero, Christian | Winston Salem | NC |
| | Palmer, Colin | LaJolla | CA |
| | Payne, Dylan | Cypress | TX |
| | Pham, Brandon | Jacksonville | FL |
| | Phunsawat, Chanon | Norcross | GA |
| | Pollatos, Michael | Ashburn | VA |
| | Pregel, Andrew | Cincinnati | OH |
| | Prieto Pinzon, Nicolas | Miami | FL |
| | Ramirez, Nicolas | Miami | FL |
| | Randall, Jack | Lockport | IL |
| | Rennie, Nicholas | Chapel Hill | NC |
| | Rios, Christopher | Baldwyn | MS |
| | Rivera, Sebastian | Lutz | FL |
| | Rollins, Rhett | Tulsa | OK |
| | Rotzoll, Liam | Bethesda | MD |
| | Ruenhorst, Alexander | Shelton | CT |
| | Sands, Jake | Pacific Palisades | CA |
| | Scotty, James | Bethesda | MD |
| | Siegler, Louis | Bal Harbor | FL |
| | Siniakowicz, Robert | West Windsor | NJ |
| | Smith, Kasper | Boulder | CO |
| | Smith, Luke | Scarsdale | NY |
| | Soong, Jeremy | Wellington | FL |
| | Spencer, Gavin | San Juan Capistrano | CA |
| | Stoyanov, Victor | Wesley Chapel | FL |
| | Stratakos, Dean | Saratoga | CA |
| | Stratton, Peter | San Diego | CA |
| | Sturgill, Ian | Madison Heights | VA |
| | Sun, Michael | Livingston | NJ |
| | Thachil, Varun | Houston | TX |
| | Tran-Vilkman, Riley | Keller | TX |
| | Treadwell, Tashawn | San Antonio | TX |
| | Turchetta, William | Pound Ridge | NY |
| | Vasser, Oren | New Rochelle | NY |
| | Vicario, Max | Mooresville | NC |
| | Vile, Sebastian | Rochester | MN |
| | Walker, Harris | South Salem | NY |
| | Watson, Nicholas | Baton Rouge | LA |
| | Weber, Jacob | Gretna | NE |
| | Wen, Alex | Novi | MI |
| | Wendel, Grant | Cincinnati | OH |
| | Xu, Joshua | Chandler | AZ |
| | Zhang, Kevin | Marietta | GA |
| | Zhu, Weiyi | Irvine | CA |
| | Zigman, Artur | Houston | TX |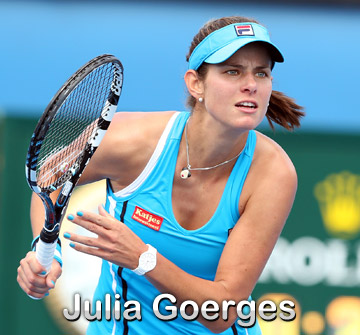 Click on Julia Goerges to view and buy her equipment, apparel, and footwear.


Follow college tennis with the ITA - the governing body that oversees all levels of men's and women's varsity collegiate tennis.
Weil Tennis Academy
For the past sixteen years in Ojai, California, the Weil Tennis Academy has steadily built a program whose focus is developing competitive players into Champions!