TOP PROSPECTS
Boys' Class of 2019 - 6th Graders
As of Monday, 3/11/2013




| | | | | | | | | | | | | |
| --- | --- | --- | --- | --- | --- | --- | --- | --- | --- | --- | --- | --- |
| View: | | Blue Chip | | 5-Star | | 4-Star | | 3-Star | | 2-Star | | 1-Star |





| Rating | Name | City | State |
| --- | --- | --- | --- |
| | Abboud, Juandedios | Laredo | TX |
| | Abel, Nikita | Los Angeles | CA |
| | Allen, Huntley | Winston Salem | NC |
| | Ashab, Amaan | Monroe | CT |
| | Aufiero, Alessandro | Key Biscayne | FL |
| | Aziz, Kemal | Staten Island | NY |
| | Barnett, Wesley | Little Rock | AR |
| | Bedwan, Muhammad | Montgomery | AL |
| | Bell, Richard | Rockville | MD |
| | Berdusco, Russell | Bradenton | FL |
| | Bernstine, Ryan | Manakin Sabot | VA |
| | Branicki, Andrew | Marietta | GA |
| | Bremner, Chase | Wheaton | IL |
| | Bulger, Jack | San Francisco | CA |
| | Burman, Cade | Bloomfield Hills | MI |
| | Chavez, Andres | Garland | TX |
| | Chiu, Jordan | San Jose | CA |
| | Cohen, Chase | Arlington | VA |
| | Cohen, Max | Oxnard | CA |
| | Collier, Reed | Seabrook | TX |
| | Das, Sachin | Potomac | MD |
| | DeMarco, Matthew | Erie | PA |
| | Dean, Evan | Boca Raton | FL |
| | Dill, Grant | Coral Gables | FL |
| | Dobbs, Sam | Sioux Falls | SD |
| | Donahue, Matthew | Weatogue | CT |
| | Doyal, Christopher | San Antonio | TX |
| | Elliott, Christopher | Mercer Island | WA |
| | Farid, Kamran | Columbia | MO |
| | Figueira, Nicholas | Arcadia | CA |
| | Fonseca, Arthur | Bradenton | FL |
| | Fu, Connor | Georgetown | MA |
| | Gibbons, Anders | Mercer Island | WA |
| | Gould, Stevie | Corte Madera | CA |
| | Govindarajan, Anuraag | Simpsonville | SC |
| | Habbestad, Ian | Claremont | CA |
| | Hall, Ezekiel | Sugar Land | TX |
| | Hammer, Sean | Jamestown | NC |
| | Han, Eric | Westford | MA |
| | Heaven, Zion | Pearl City | HI |
| | Heiney, David | FtWayne | IN |
| | Hover, Landon | Overland Park | KS |
| | Jackson, Ryder | Nicasio | CA |
| | Jiang, Shawn | San Ramon | CA |
| | Kamdem, Joyce | Keller | TX |
| | Kania, Cameron | Middlefield | CT |
| | Karr, Michael | Darien | CT |
| | Kijak, David | Aurora | CO |
| | Kim, Julius | Boise | ID |
| | King, Asher | Lutz | FL |
| | Koons, Holden | York | PA |
| | Kozlowski, Patryk | Irvine | CA |
| | Lam, Kailuhia | Honolulu | HI |
| | Lan, Phillip | LA Canada Flintridge | CA |
| | Lee, Andrew | Short Hills | NJ |
| | Levine, Hunter | Weston | FL |
| | Liss, Gabriel | Bloomfield | MI |
| | Liu, Stanley | Rolling Hills | CA |
| | Mandell, Justin | Rye | NY |
| | Mandlik, Mark | Boynton Beach | FL |
| | Marley, Corey | Los Angeles | CA |
| | Martin, Andres | Flowery Branch | GA |
| | Maslov, Igor | Brooklyn | NY |
| | Mercer, John | Huntington | WV |
| | Milic, Danilo | Los Angeles | CA |
| | Moll, Michael | Naples | FL |
| | Moortgat, Caden | Boise | ID |
| | Mu, Matthew | La Jolla | CA |
| | Mueller, Nicholas | Winchester | VA |
| | Nakamine, Jun | Arcadia | CA |
| | Nazaroff, Steven | Brooklyn | NY |
| | Nevenhoven, Quinten | Rockford | IL |
| | Nguyen, Hao | Sugar Land | TX |
| | Nisbet, Connor | Wilmington | DE |
| | Nottingham, Jonathan | Philadelphia | PA |
| | Oshinowo, Etienne | Katy | TX |
| | Paduraru, Andrei | Commerce Township | MI |
| | Pallegar, Nayan | Granite Bay | CA |
| | Parikh, Harsh | Tucson | AZ |
| | Park, Brandon | Bakersfield | CA |
| | Pasimio, Michael | Las Vegas | NV |
| | Pham, Nam | Lenexa | KS |
| | Pomerance, Tyler | Stamford | CT |
| | Powis, Ben | Greenwich | CT |
| | Raskopf, Derek | New York | NY |
| | Reddy, Shashank | Cincinnati | OH |
| | Riddle, Brandon | Germantown | MD |
| | Riemann, Luke | Cheshire | CT |
| | Safbom, Michael | Las Vegas | NV |
| | Sakamaki, Lucas | Louisville | KY |
| | Saleh, Andre | Newport Beach | CA |
| | Savelev, Daniil | Deerfield Beach | FL |
| | Sebastian, Patrick | Fairport | NY |
| | Segura, Matthew | Los Angeles | CA |
| | Setran, Owen | Wheaton | IL |
| | Sierra, Esteban | Miami | FL |
| | Slack, Cameron | FtPierce | FL |
| | Smith, Grant | Centerville | OH |
| | Smith, Sidney | Wynnewood | PA |
| | Smith, Zachary | New Orleans | LA |
| | Spear, Natan | Chicago | IL |
| | Srivastava, Abhinav | Melville | NY |
| | Stephens, Shand | New York | NY |
| | Stoiana, Nicolas | Southbury | CT |
| | Stone, Samuel | Palmetto Bay | FL |
| | Sundaram, Ritik | Chesterfield | MO |
| | Szkudlarski, Philip | Belle Mead | NJ |
| | Ta, Rian | Fremont | CA |
| | Takakura, Jo | Scarsdale | NY |
| | Tennison, Will | Verona | WI |
| | Torbert, James | Montgomery | AL |
| | Torres, Guillermo | Dorado | PR |
| | Traxler, Daniel | Rockwall | TX |
| | Trudell, Daniel | Kenner | LA |
| | Vandecasteele, Luke | Murray | UT |
| | Vu, Andrew | Beaverton | OR |
| | Wang, Jerry | Fayetteville | NC |
| | Wang, Lantis | New York | NY |
| | Winegar, Theo | Sarasota | FL |
| | Wong, Philip | West Bloomfield | MI |
| | Woodman, AJ | Monclova | OH |
| | Wylly, Jack | Savannah | GA |
| | Zagrebelny, Maxim | Eagan | MN |
| | Zhang, Nathan | Cincinnati | OH |
| | Zipoli, Jake | Winnetka | IL |
| | Zordani, William | Lake Forest | IL |
| | de Almeida, Lourenco | Rolling Hills Estate | CA |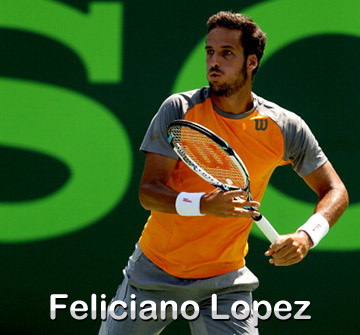 Click on Feliciano Lopez to view and buy his equipment, apparel, and footwear.

One of the most comfortable tennis shoes - check out our ladies video review of the #Wilson RushPros @WilsonTennis

Click Here!

Get in the spirit of #RG13 with this TW limited edition Paris t-shirt! Only $9.99!

Click Here!

A great @babolat junior shoe for just $19.95! This deal is gone in 1 hour! Get yours now:

Click Here!


Follow college tennis with the ITA - the governing body that oversees all levels of men's and women's varsity collegiate tennis.
New Athletic DNA Women's Tennis Apparel Line 2012
Diversity and color enhance new line of Athletic DNA tennis apparel.
We designed ADNA clothing to be worn at the highest level of play, and
gave it ...
See More