TOP PROSPECTS
Girls' Class of 2019 - 6th Graders
As of Monday, 3/11/2013




| | | | | | | | | | | | | |
| --- | --- | --- | --- | --- | --- | --- | --- | --- | --- | --- | --- | --- |
| View: | | Blue Chip | | 5-Star | | 4-Star | | 3-Star | | 2-Star | | 1-Star |





| Rating | Name | City | State |
| --- | --- | --- | --- |
| | Aaron, Anna | Highland | UT |
| | Aaron, Daniela | Highland | UT |
| | Acco, Raquel | Orange Park | FL |
| | Akli, Ayana | Silver Spring | MD |
| | Almonte, Priscilla | Miami | FL |
| | Ang, Sara | Rochester Hills | MI |
| | Angier, Bridgette | Medina | WA |
| | Antkiewicz, Kelly | Davie | FL |
| | Ao, Florence | Walnut | CA |
| | Astle, Emilee | Sandy | UT |
| | Bakken, Kate | Springfield | OR |
| | Barnhill, Taylor | Lubbock | TX |
| | Barrett, Taylor | Holly | MI |
| | Behrend, Maria | Albuquerque | NM |
| | Biju, Sharon | FtWorth | TX |
| | Blahut, Natalie | Coral Springs | FL |
| | Bloss, Lauren | El Paso | TX |
| | Bounds, Amanda | Lawrence | KS |
| | Bourque, Elise | Lake Charles | LA |
| | Bradley, Jordan | Downingtown | PA |
| | Brechtelsbauer, Laura | Greenville | NC |
| | Bremer, Molly | Chicago | IL |
| | Breunich, Willa | Port Saint Lucie | FL |
| | Brooks, Taylor | Southfield | MI |
| | Burgess, Ashleigh | Lafayette | LA |
| | Calhoun, Cassia | Jacksonville | FL |
| | Calleja, Torye | Anthem | AZ |
| | Caplan, Jacey | Pottstown | PA |
| | Caplan, Rachel | Greenwich | CT |
| | Carnohan, Casey | Mechanicsville | VA |
| | Cauthen, Zoe | Timmonsville | SC |
| | Chava, Neha | Northville | MI |
| | Cirillo, Shea | Raleigh | NC |
| | Colak, Sema | Okemos | MI |
| | Covelli, Julia | Naples | FL |
| | Crowley, Annabelle | Fox Point | WI |
| | Dania, Anushka | Austin | TX |
| | Daverio, Isabella | Richfield | OH |
| | Day, Courtney | Oshkosh | WI |
| | Dean, Taylor | Fairfield | CT |
| | Deatherage, Daniella | Hollywood | FL |
| | Demo, Megan | Lees Summit | MO |
| | Dimitrijevic, Mila | Montgomery | TX |
| | Dodd, Grace | Corinth | TX |
| | Dudipala, Neha | Lewis Center | OH |
| | Dunlap, Ava | Grand Blanc | MI |
| | Elliott, Emily | Daniel Island | SC |
| | Emery, Colbey Shae | Ventura | CA |
| | Fan, Madison | West Vancouver | BC |
| | Fanning, Lauren | North Andover | MA |
| | Ferg, Lauren | Eagan | MN |
| | Findley, Anna | Salt Lake City | UT |
| | Fischer, Hanna | Paducah | KY |
| | Fitz-Patrick, Ashley | Vienna | VA |
| | Frank, Amanda | Palm Beach Gardens | FL |
| | Fujimura, Gretchen | Portland | OR |
| | Fusdahl, Mille | Plantation | FL |
| | Gay, Dominique | Naples | FL |
| | Giavara, Haley | San Diego | CA |
| | Gibbons, Rebecca | Rock Hill | SC |
| | Gibson, Giuliana | Bayside | NY |
| | Goff, Marie | Dallas | TX |
| | Goldberg, Caitlin | Highland Park | IL |
| | Golightly, Chloe | Edmond | OK |
| | Gouchev, Anna | Alpharetta | GA |
| | Graber, Shelby | Parker | CO |
| | Grimes, Ava | Atlanta | GA |
| | Grisham, Faith | Vancouver | WA |
| | Gustafson, Lauren | Marshfield | MA |
| | Harrelson, Tatiana | Myrtle Beach | SC |
| | Harris, Avery | Martinez | GA |
| | Henegar, Brooke | Plano | TX |
| | Herrera, Mikayla | Albuquerque | NM |
| | Hickey, Jordan | Los Angeles | CA |
| | Hill, Caroline | Madison | MS |
| | Hoekstra, Olivia | Paia | HI |
| | Howard, Zoe | Washington | DC |
| | Hu, Lucia | Roslyn | NY |
| | Huang, Clarise | Honolulu | HI |
| | Hudson, Charlotte | Bogart | GA |
| | Hughes, Avery | Rogers | AR |
| | Hughes, Gracie | Ponte Vedra Beach | FL |
| | Hughes, Madeline | Madison | MS |
| | Huk, Amber | Pleasanton | CA |
| | Huth, Winslow | Brentwood | TN |
| | Hwang, Stephanie | Vienna | VA |
| | Ignatowich, Ava | Darien | CT |
| | Jacobo, Claudia | Miami | FL |
| | Jin, Serim | Portland | OR |
| | Johnson, Shelby | Geneva | IL |
| | Johnston, Emily | Tulsa | OK |
| | Jones, Rani | New Market | MD |
| | Jordaan, Caroline | Cherry Hills Village | CO |
| | Jurasek, Madelynn | Sugar Grove | IL |
| | Kanja, Kourtney | Honolulu | HI |
| | Khoje, Mitali | Katy | TX |
| | Kim, Hannah | Fullerton | CA |
| | King, Katie | Highland | UT |
| | Kislin, Juliana | New York | NY |
| | Klaren, Kelly | West Tisbury | MA |
| | Kreutzer, Lauren | Shoreline | WA |
| | Krueger, Katherine | Omaha | NE |
| | Kuncl, Taylor | Cincinnati | OH |
| | Kuo, Kristal | Omaha | NE |
| | Kusuma, Chandralekha | FtMill | SC |
| | Kwee, Mari | Aiea | HI |
| | LaBarge, Brinlea | FtWashington | PA |
| | LaMette, Melissa | Cypress | TX |
| | Lai, Denise | Setauket | NY |
| | Lara, Elizabeth | West Valley City | UT |
| | Lee, Ashleen | Alexandria | VA |
| | Lee, Gabby | Leawood | KS |
| | Lee, Sophi | Los Angeles | CA |
| | Levine, Sofie | New York | NY |
| | Lindsey, Hannah | Hahira | GA |
| | Little, Morgan | Cornelius | NC |
| | Liu, Allison | Wilmette | IL |
| | Livitz, Emily | Walnut Creek | CA |
| | Lommer, Caroline | Glenview | IL |
| | Lopez, Sydney | Conyers | GA |
| | Lozada, Paola | Cayey | PR |
| | Lu, Cody | Johns Creek | GA |
| | Mach, Yoeur-man Teagan | Bellevue | WA |
| | Maeda, Kelly | Wildwood | MO |
| | Manas, Apurva | Carmel | IN |
| | Marthinson, Madeline | Greenville | SC |
| | Maurras, Evelyn | Jonesboro | AR |
| | Mbaye, Isha | New Orleans | LA |
| | McAllan, Nina | Ramsey | NJ |
| | McIsaac, Chloe | Fairview Heights | IL |
| | McKenzie, Sophie | Glendale | CA |
| | Meader-Yetter, Olivia | Lynnwood | WA |
| | Melendez, Vannelie | Cayey | PR |
| | Miller, Macey | Norman | OK |
| | Miller, Tyne | Lawrenceville | NJ |
| | Mitchell, Sophia | North Chesterfield | VA |
| | Moghtader, Abigail | Arnold | MD |
| | Moore, Madison | Mechanicsville | VA |
| | Mustafa, Neda | San Marcos | CA |
| | Nelson, Margaret | Birmingham | AL |
| | Neville, Olivia | Dallas | TX |
| | Nguyen, Emily | Farmington | NM |
| | Ohayon, Eleanor | Plantation | FL |
| | Oosterbaan, Olivia | Kalamazoo | MI |
| | Orlando, Alexa | Frederick | MD |
| | Pacthod, Audrey | New York | NY |
| | Patel, Anke | Springboro | OH |
| | Patton, Lillie | Columbus | GA |
| | Pearson, Faith | Murrieta | CA |
| | Pearson, Sophie | Longmont | CO |
| | Peercy, Lydia | Sagamore Hills | OH |
| | Perkins, Lindsay | Tulsa | OK |
| | Phalen, Zoe | Cumming | GA |
| | Pietrowicz, Maja | Clinton Twp | MI |
| | Prasad, Siona | Vienna | VA |
| | Prokopeca, Dasha | Naples | FL |
| | Pruett, Alena | Mountain View | CA |
| | Puzak, Ellen | Minneapolis | MN |
| | Ramesh, Chetana | Montgomery | OH |
| | Rashkovsky, Katerine | Sherman Oaks | CA |
| | Rebol, Cassidy | Cumming | GA |
| | Reynolds, Ansley | Atlanta | GA |
| | Rice, Sammi | Columbus | GA |
| | Richards, Connie | Worthington | OH |
| | Rippa, Madison | Southlake | TX |
| | Rivera-Rodriguez, Ines | Trujillo Alto | PR |
| | Rockwood, Gabby | Park City | UT |
| | Rockwood, Olivia | Park City | UT |
| | Rooney, Isabella | Honolulu | HI |
| | Ross, Anna | Winnetka | IL |
| | Ross, Caroline | Los Angeles | CA |
| | Ruiz, Chelsey | Fresno | CA |
| | Salvador, Sophia | Spring Lake | NJ |
| | Sanchez, Veronica | Carolina | PR |
| | Schick, Elizabeth | San Jose | CA |
| | Schimming, Priscilla | Willow Park | TX |
| | Schlatter, Amanda | Cherry Hills Village | CO |
| | Sewell, Audrey | Mobile | AL |
| | Shelton, Emma | Smyrna | GA |
| | Shub, Michelle | Marblehead | MA |
| | Simunyola, Emnet | Lorton | VA |
| | Sinai, Natalie | Bethlehem | PA |
| | Solecki, Amanda | Brooklyn | NY |
| | Sorgen, Paige | Bellevue | WA |
| | Sosonkin, Diana | Brooklyn | NY |
| | Spann, Corinne | Chattanooga | TN |
| | Stogner, Skyler | El Paso | TX |
| | Sullivan, Laurel | Fox Point | WI |
| | Tagaloa, Megan | Riverside | CA |
| | Tamai, Kina | Arlington Heights | IL |
| | Tang, Sabrina | Wisconsin Rapids | WI |
| | Tavasoli, Katie | Westlake Village | CA |
| | Teemant, Olivia | Provo | UT |
| | Theodossiou, Isabelle | Asheville | NC |
| | Toub, Karina | Greenwich | CT |
| | Turchak, Sasha | Berkeley | CA |
| | Vagramov, Alexandra | Port Moody | BC |
| | VanCott, Sylvie | Westlake Village | CA |
| | Varma, Eesha | Eagan | MN |
| | Velcu, Raluca | Louisa | KY |
| | Venkatarama, Rashmi | Kendall Park | NJ |
| | Visic, Emilija-Emi | Phoenix | AZ |
| | Vought, Victoria | Holmdel | NJ |
| | Vujanic, Jovana | Elk Grove Village | IL |
| | Wagner, Lisa | Calabasas | CA |
| | Warren, Chloe | Pell City | AL |
| | White, Logan | Delafield | WI |
| | Whitner, Lilly | Jacksonville | FL |
| | Whitteker, Shea | Carlsbad | CA |
| | Winter, Bella | Sarasota | FL |
| | Wong, Jayci | Port Arthur | TX |
| | Yang, Rachelle | Arcadia | CA |
| | Young, Amara | Indianapolis | IN |
| | Yuan, Mariel-Lulu | Sharon | MA |
| | Zayat, Alyssa | Broken Arrow | OK |
| | Zell, Michelle | Tustin | CA |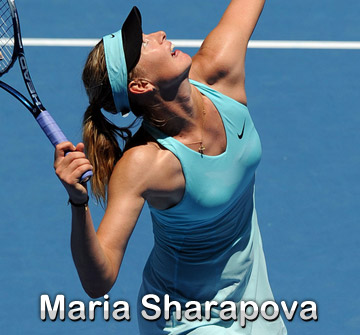 Click on Maria Sharapova to view and buy her equipment, apparel, and footwear.

RT @Solfireworld: Check out our bestseller on @Tenniswarehouse as worn by @DodigTennis #sportswear

Click Here!

Save $60 off the NEW Slazenger V100 racquet! 30 minutes remain on this weeks #TWHappyHour!

Click Here!

1 more hour to go! Get this EXCLUSIVE @ASICSamerica Gel Res 4 shoe 4 ONLY $79.95!

Click Here!


Follow college tennis with the ITA - the governing body that oversees all levels of men's and women's varsity collegiate tennis.
Nadal practicing before 2012 French Open Final
Last practice for Rafael Nadal with Alexandre Favrot before the second round of the 2012 French Open final.
http://www.facebook.com/babolat
Tennis Warehouse provides lively forums for the discussion of junior and college tennis. Here are the latest topics from the Talk Tennis message boards.