Player Information



Catherine Harrison

Germantown, Tennessee

Laurel Springs
Graduate, Class of 2012
&nbsp
USTA G18-16 NATIONAL CHAMPIONSHIPS
August 4-12, 2012
Barnes Tennis Center, San Diego, CA
Girls' 18 Singles
Complete Results
USTA G18 NATIONAL CLAY COURT CHAMPIONSHIPS
July 15-22, 2012
Racquet Club of Memphis, Memphis, TN
Girls' 18 Singles
Complete Results
THE JR. CHAMPIONSHIPS, WIMBLEDON
June 30 - July 8, 2012

Girls' 18 Qualifying
Girls' 18 Singles
Complete Results

Round
Wins
Losses
Score
32
6-3;7-6(10)
16
7-5;6-4
64
6-3;3-6;6-4
AEGON JR. INTERNATIONAL ROEHAMPTON
June 24-29, 2012
GBR
Girls' 18 Qualifying
Complete Results

| | | | |
| --- | --- | --- | --- |
| Round | Wins | Losses | Score |
| 32 | | | 7-5;6-4 |
THE EASTER BOWL ITF TENNIS CHAMPIONSHIPS
April 9-15, 2012
Rancho Las Palmas Tennis Country Club, Rancho Mirage, CA
Girls' 18 Singles
Complete Results

| | | | |
| --- | --- | --- | --- |
| Round | Wins | Losses | Score |
| 64 | | Dasha Ivanova (3) | 5-7;7-6(7);4-1Ret (inj) |
USTA INTERNATIONAL SPRING CHAMPIONSHIPS
March 31 - April 8, 2012
USTA Player Development, Carson, CA
Girls' 18 Singles
Complete Results
NWU-PUKKE/RVTA JR. ITF 2
March 12-16, 2012
RSA
Girls' 18 Singles
Complete Results

| | | | |
| --- | --- | --- | --- |
| Round | Wins | Losses | Score |
| 32 | | | 6-0;6-4 |
| 16 | | | 6-0;6-0 |
| Q | | | 6-2;6-1 |
NWU-PUKKE/RVTA JR. ITF 1
March 5-9, 2012
RSA
Girls' 18 Singles
Complete Results

| | | | |
| --- | --- | --- | --- |
| Round | Wins | Losses | Score |
| 32 | | | 6-3;6-2 |
AUSTRALIAN OPEN JR. CHAMPIONSHIPS
January 22-28, 2012
Melbourne, Melbourne, AUS
Girls' 18 Qualifying
Girls' 18 Singles
Complete Results

Round
Wins
Losses
Score
32
4-6;6-4;6-1
16
6-2;6-2
64
6-2;6-2
LOY YANG TRARALGON INTERNATIONAL
January 15-20, 2012
Traralgon, Traralgon, AUS
Girls' 18 Qualifying
Girls' 18 Singles
Complete Results

Round
Wins
Losses
Score
32
6-0;6-2
16
6-1;6-2
64
6-4;6-2
32
6-1;6-4
ORANGE BOWL INTERNATIONAL TENNIS CHAMPIO
December 5-11, 2011
Plantation, Plantation, FL
Girls' 18 Singles
Complete Results

| | | | |
| --- | --- | --- | --- |
| Round | Wins | Losses | Score |
| 64 | | | 6-3;6-4 |
| 32 | | | 6-3;6-1 |
2011 EDDIE HERR INTERNATIONAL
November 24 - December 4, 2011
Img, Bradenton, FL
Girls' 18 Main Draw
Complete Results

| | | | |
| --- | --- | --- | --- |
| Round | Wins | Losses | Score |
| 64 | | | 6-2;6-2 |
PAN AMERICAN ITF CHAMPIONSHIPS
October 10-15, 2011
Tulsa, OK
Girls' 18 Singles
Complete Results
KENTUCKY INTERNATIONAL TENNIS DERBY
September 12-17, 2011
Lexington, KY
Girls' 18 Singles
Complete Results
U.S. OPEN JR. TENNIS CHAMPIONSHIPS
September 2-11, 2011
USTA National Tennis Center, Flushing, NY
Girls' 18 Singles Qualifying
Complete Results

| | | | |
| --- | --- | --- | --- |
| Round | Wins | Losses | Score |
| 32 | | | 4-6;7-6(7);6-4 |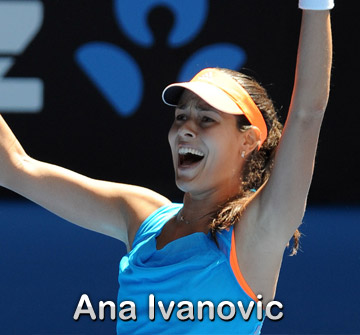 Click on Ana Ivanovic to view and buy her equipment, apparel, and footwear.

New arrival! The @ASICSamerica Gel Solution Speed 2! Men's:

Click Here!

It's #freeshippingday and we're participating! No min order! Free shipping to contiguous US orders! Shop:

Click Here!

They're heeeeeeeeere!!! @babolat Play Pure Drive is now available! Learn more:

Click Here!