Special Feature
Eight Intriguing Questions for 2020
by
Colette Lewis
, 17 January 2020
Every year I look ahead to an assortment of issues facing college and junior tennis, with two of the questions making up the 2020 edition focusing on where two crown jewel events will be held. One of last year's eight questions wasn't answered in 2019, but, as question No. 5 indicates, it will be decided this fall.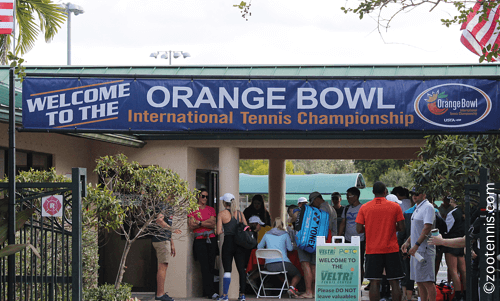 Will the Orange Bowl Stay in Plantation, Florida?
© Zoo Tennis
1) Will the Orange Bowl relocate?
After nine years at its current location in Plantation, Florida, the Orange Bowl does not have a venue under contract for December of 2020. The city's Frank Veltri Tennis Center has been popular with fans and college coaches alike, with all matches in both 16s and 18s at one site, which is a public park with free parking and admission. Restaurants, hotels and shopping are a five-minute drive away, and the local community always turns out for the finals, which is rarely the case for most junior events.
But this past December, the tournament had to overcome several delays caused by overwatered courts, indicating a lack of urgency and commitment from the city to prioritize maintenance and infrastructure at the site. The USTA is said to be interested in moving the event to the National Campus at Lake Nona, but that would almost certainly mean the end of the 73 years of history as the Orange Bowl, as it is part of a South Florida organization that hosts the famous college football bowl game, among many other activities. Alternatives to the Veltri Center are few in South Florida—none offer enough clay courts at one site—and even hard court sites that might be able to handle the volume of matches have other significant drawbacks.
Orange Bowl tournament director and USTA Director of Junior Competition Lew Brewer, who is headquartered at Lake Nona, is concerned about the loss of history should the event leave South Florida. But without a concerted effort and a financial commitment by the Orange Bowl committee and the city of Plantation, a storied chapter of junior tennis's past could disappear.