Special from
Zoo Tennis
In the summer of 2019, JJ Wolf decided to pursue a career in professional tennis after three seasons at Ohio State. After going 35-2 in his junior year and finishing the season ranked No. 2 in the nation, the then 20-year-old from Cincinnati faced the often daunting task of making the transition from college to pro tennis.
Wolf did have evidence he could make that jump, claiming an ATP Challenger tournament in January of 2019 on his home courts at Ohio State. But once Wolf turned pro, he began to make his mark outside of the Buckeye State, winning Challengers in Champaign, Illinois and Noumea. After competing in the Australian Open qualifying for the first time to start this year, Wolf returned to the comfort of Columbus, capturing his fourth Challenger title and securing a place in the ATP Top 150 for the first time.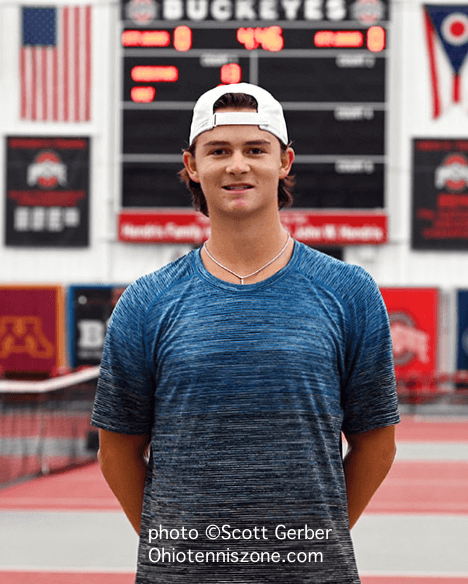 JJ Wolf Turned Pro After His Junior Year at Ohio State
© Scott Gerber
One of the few players who entered the long pandemic shutdown after securing a title, Wolf remained in Columbus, working with coaches David Kass, Balazs Novak and, recently, Patrick Thompson, while also focusing on nutrition and fitness.
Wolf, now a career-high 143 in the ATP rankings, received a qualifying wild card into the ATP Western & Southern Open, normally held in his hometown, but moved this year to New York's pandemic bubble, which includes the U.S. Open next week. Wolf returned to competitive tennis by qualifying for the Western & Southern, picking up his fourth ATP Top 100 win along the way, but fell to veteran Richard Gasquet of France in what was Wolf's first ATP-level main draw match and Gasquet's 865th.
After that loss, I spoke with Wolf about his ATP debut, his rapid rise in the rankings, his college experience and playing in the upcoming U.S. Open as a wild card next week.
Colette Lewis: Your record since last fall has been really good. Was there a point at which you began to feel like you belonged on the tour, that you belonged in these kinds of tournaments?
JJ Wolf: I don't know if there is a specific moment. I think it's just kind of a gradual increase of confidence, and I think some of these matches are going to be big for me if I can execute on the big points.
These guys, they don't make mistakes when they're up 3-1, 30-love too often. That's what I did today… He's such a talented player. He has all the spins, and his ball really runs off the court. He served well, and I didn't handle that well.
CL: Is it surprising to you that once you left Ohio State you've gone pretty steadily straight toward the top 100? Has that surprised you at all?
Wolf: No, that was the initial goal, to break that top 100, and I've got a lot of faith in my coaches at home. They told me that if I put in the work and do everything right, that that's the trajectory I'll take. I have been trying to listen to them a lot and listen to my family.
I guess I'm not surprised, but I'm very happy with how it's been going lately.