Special from
Zoo Tennis
After winning the 2022 USTA National 18s title in Kalamazoo at age 16, Learner Tien had a decision to make. An early high school graduate, Tien obviously had a spot on any college roster he chose, but pro tennis was also an option.
With his wild card for winning Kalamazoo, Tien took a set from No. 32 seed Miomir Kecmanovic of Serbia at the US Open, then made the final of a $15,000 USTA Pro Circuit tournament in Arkansas in the fall. But in December, the University of Southern California announced that Tien would be joining the Trojans in January.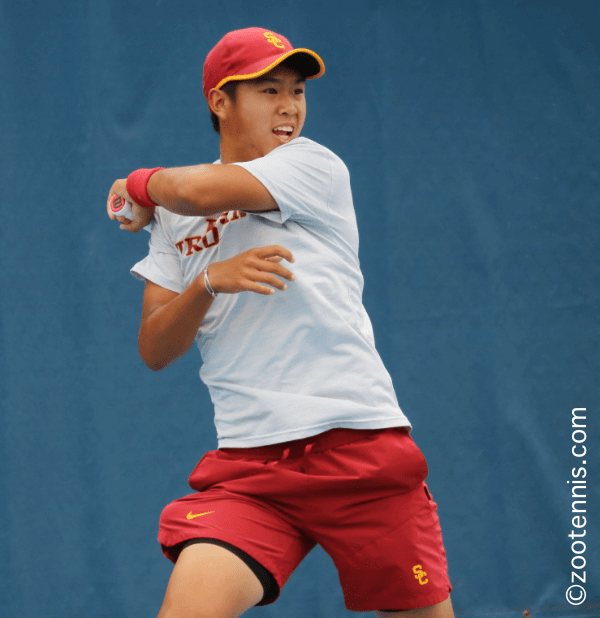 Tien Played his First Match for USC in Mid-April
© Zoo Tennis
The left-hander from Irvine, California was a bit late starting classes however, after his first trip to Australia resulted in the boys doubles title (with Cooper Williams) and his first junior slam singles final, which he lost in a third-set tiebreaker.
Tien's debut in a college dual match was months away however, as issues related to the US Open prize money kept him from being cleared by the NCAA. Although he usually traveled with the team while awaiting the decision, it was mid-April before Tien played his first match, at line 1 doubles and line 2 singles, against Oregon. He ended his brief season with a record of 6-3 in doubles and 3-0 in singles, with seven of his singles matches unfinished. The last of those singles victories included a 6-3, 6-4 win over Michigan's 44th-ranked Patrick Maloney in USC's 4-3 loss in the Super Regional, where I had an opportunity to speak with Tien about his long wait to compete and many other topics.
COLETTE LEWIS: After all your success at the Australian Open Junior Championships, did you ever reconsider your decision to attend USC?
LEARNER TIEN: No, I thought of it as a bonus. It was one I wanted to win, obviously, and it kind of stung for a little while after I lost it. But before the tournament, I thought 'win the tournament or lose first round, I'm going to college,' so anything that comes with playing this tournament is just a bonus. If I win, that's great, I come home and go to school. I lose first round, I come home and go to school.
If I win that match I go to school as a junior winner, instead of finalist, I guess. That's all that changes.