Who's Hot?
Hot 100 List - July '17
by Amelia Thomas, 17 July 2017
Skyrocketing temperatures mean relaxed pool days for many young students. Tennis players, however, are taking advantage of their summer vacation to get out on the court. We caught up with a few players who performed well over the past month - in the July edition of the Hot 100. The Hot 100 lists are published each month, and the July Hot 100 lists feature the one hundred boys and girls who most improved their rankings during the month of June. You can find out more about the Hot 100 - and how the lists are calculated - by reading here.
The latest lists, published today, are available here:
We talked to a few of these top performers…
Roundup
Samantha Mannix (Elkhorn, Neb.)
Four-star rising senior Samantha Mannix recently took six months off of tennis due to an injury. While this put Mannix at a disadvantage, she did not let the time off set back her game.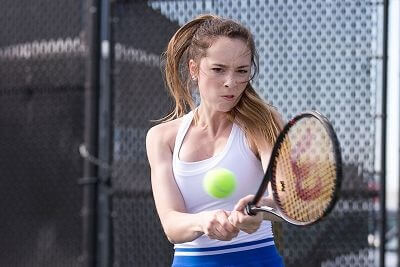 Four-star senior Samantha Mannix
"She worked out with her physical therapist as hard as she would have on the tennis court during that time," her mother, Tina Schwahn, said. "I believe that her efforts to increase her strength and flexibility during that time off served her very well when she was ready to return to the game."
Samantha Mannix credits the support she received during this time for her more recent success. "I believe the time dedicated to improving my game and my support system of coaches and family have helped me achieve my recent success," she said. "After taking time off last year, my coaches and family have worked to give me the best opportunities to compete at a higher level."
Mannix was able to ease her way back into competitive play with her Elkhorn South High School tennis season in the spring before she re-entered USTA competitions. She works with Steve Bischof at Elkhorn South High and two private coaches at the Woods Tennis Center, Talor Wain and Kevin Heim.
Currently, Mannix and her coaches are working on her backhand, consistency and aggressiveness. They focus particularly on Mannix's mental game.
"[Wain] has been pushing me to understand the strategy of how a point will play out," she said. "Eventually, I want to be able to predict the result of hitting certain shots, instead of just playing without thinking it through."
The six-foot player's dedication has paid off in strong results. She competed in two USTA tournaments last month and won both events. She earned a 9-0 record for the month and jumped into the top 100 of the Senior Class Rankings.
Mannix says her best win of the month came in the finals of the USTA Missouri Valley Summer Sweet 16 Tournament. She competed against five-star recent graduate Caroline Pozo, who is committed to Northwestern University. The two have encountered one another many times over the years, each coming out on top at various times.
"This specific match was extremely close and very competitive," Mannix said. "With the final score being 6-2, 4-6, 6-1, I was very happy with the respect and high-level competition within the match."
Mannix is thinking seriously about college, and she believes her passion for competition will set her apart from other recruits.
"I am an extremely competitive person, and competing is why I love to play," she said. "Of course I love winning, everyone does, but my main goal is to play my best and represent myself as a great player and person."