Tournament Feature
Reigniting the Tournament Flame
by Rhiannon Potkey, 14 July 2017
The light went on for Demi Snyder six months ago.
After reducing her tournament schedule to focus on academics, Snyder suddenly had the urge to compete more.
She began watching professional tennis and became inspired by what she saw.
"I just made a change in my mind and it was like a switch. I started really, really loving tennis again and started devoting a lot more time to it," Snyder said. "My love for it blossomed and completely grew in a matter of just a couple of weeks."
The four-star rising junior is hoping her newfound energy will translate into a strong summer.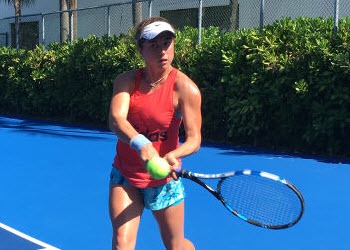 Demi Snyder is a rising junior from Fort Lauderdale
Snyder is competing in the USTA Girls' 16 National Clay Court Championships, which begins Sunday at the Virginia Beach Tennis & Country Club in Virginia Beach, Va.
The tournament is one of eight national clay court divisional events taking place next week in Virginia, Tennessee and Florida.
Snyder, a Fort Lauderdale native, enters the clays with momentum.
In June, she made a run through the Girls 16 draw to capture the Bobby Curtis sectional clay court title in Orlando. The unseeded Snyder didn't drop a set while beating the No. 1, 3, 6, 9 and 10 seeds.
"I went into that tournament thinking the seed doesn't matter. Just because I wasn't seeded didn't mean I wasn't able to win the tournament," Snyder said. "I think that probably gave me more motivation. I was motivated to show that someone can do school and not be seeded and go out there and surprise everyone."