Riffice, Nakashima No. 1 Seeds at 75th Kalamazoo Nationals
Special from
Zoo Tennis
KALAMAZOO, Mich. - When Kalamazoo celebrates 75 years of the USTA Boys 18 and 16 National Championships Saturday with an exhibition match featuring Honorary Referees Andy Roddick and Michael Russell, the tournament will already have begun a new chapter in its storied history.
The expansion of the draws, with 32 more singles players and 16 more doubles teams in each division, means a third site is required, with Portage West Middle School's eight courts, approximately seven miles south of Stowe Stadium and Western Michigan University, hosting matches for the tournament's first five days.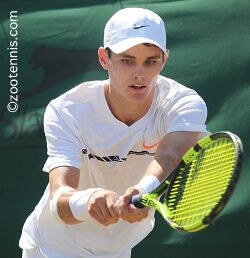 Sam Riffice is the No. 1 Seed in Boys 18s
©
ZooTennis
Another change affects seeding, with an additional 32 players in each division seeded in the 256-player draw, although only the top 32 seeds have byes into the second round.
The 18s field features 10 players in the Top 40 of the International Tennis Federation World Junior rankings, including two who had outstanding 2016 tournaments in Kalamazoo - finalist Vasil Kirkov, who is seeded No. 10 this year, and semifinalist Trent Bryde, who is the No. 3 seed.