Who's Hot
Hot 100 List - October '17
by Amelia Thomas, 19 October 2017
This time of year, the Countdown to Signing Day consumes most of our content on TennisRecruiting.net. We took the time to bring you one of our regular features this week, the Hot 100 Article.
We caught up with a few players who performed well over the past month - in the October edition of the Lotto Elite Hot 100.
The Lotto Elite Hot 100 lists are published each month, and the October Hot 100 lists feature the one hundred boys and girls who most improved their rankings during the month of September. You can find out more about the Lotto Elite Hot 100 - and how the lists are calculated - by
reading here
.
The latest lists, published today, are available here:
We talked to a few of these top performers:
Roundup
Jordan Grayson (Gaithersburg, Md.)
Last year, four-star freshman Jordan Grayson set a challenging goal for herself: she decided to work towards increasing her Universal Tennis Ranking by a full point within the coming year.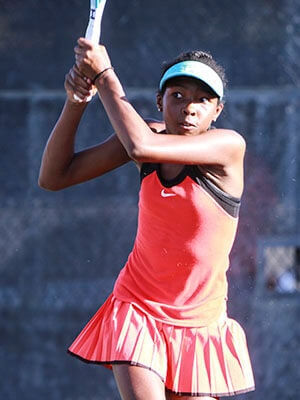 Four-Star Freshman Jordan Grayson
Grayson took off three months of tournament play at the end of 2016 to focus on this goal and improve specific aspects of her match play. She trains with coach Benjamin Cappuccitti of JTCC in College Park, Md., and credits him for her recent improvements along with the time off.
"My coach and I are currently working on knowing when to take balls on the rise versus when to let the ball drop as well as returning deep, flat shots," said Grayson, who previously trained at the Hong Tennis Training Centre. "We are also working to increase racket head speed on my serves."
When Grayson returned to competition, she knew she had to start beating players at or above her level in order to reach her goal.
"That definitely helped to push and motivate me on the court," she said. "Also, some of my best friends now are my tennis opponents. We push each other."