Special Feature
Beating The Odds To Play College Tennis
by Rhiannon Potkey, 13 December 2017
Teon Manzie began playing tennis to stay away from trouble.
Raised in a rough neighborhood in Cleveland, Manzie was surrounded by drug dealing and violence on a daily basis.
His father died when he was 2, and his mother was raising four children on a nursing assistant's salary. Seeking a positive outlet for Teon during the summer months, Manzie's mother heard about Inner City Tennis Clinics.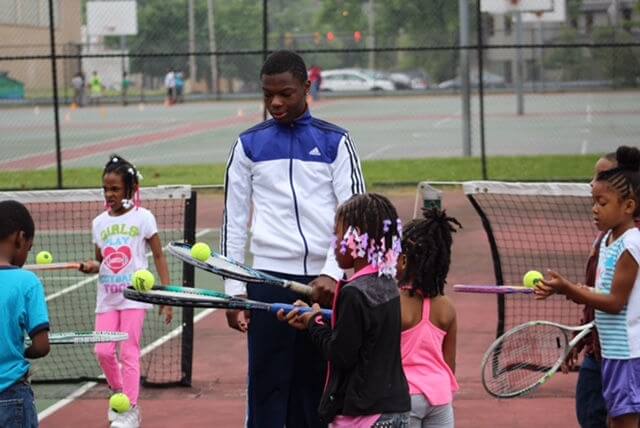 Teon Manzie Works With Children at Inner City Tennis Clinics
ICTC is a nonprofit organization that teaches kids in the Cleveland area about tennis, literacy and wellness.
Manzie was skeptical when he first arrived as a 10-year-old in 2010.
"My mom forced me to go, and I didn't like the game of tennis at all. I never knew about it," Manzie said. "But after the third year, people were telling me they saw some potential. They told me I was pretty good and I needed to play and not treat it like my mom was forcing me to do it."
Manzie gradually began to improve and gain confidence through tennis. He developed his game and assumed more leadership roles at ICTC.
Although he couldn't afford to play USTA tournaments, Manzie allowed himself to dream about playing tennis in college. He wanted to make his family proud and be a role model for his younger siblings.
Against long odds, tennis became Manzie's ticket to a higher education.
ICTC has worked with more than 4,000 kids over the last year eight years, and Manzie was the first to earn a college scholarship for tennis.
Manzie, 18, is a freshman at Union College, an NAIA Division II school in Barberville, Kentucky. He just completed the fall season for the Bulldogs.
"I didn't think he would go this far and last this long and be this successful," said Manzie's mother, Euodia. "I didn't really have any expectations. I just wanted him to try something different and new. I knew there really weren't that many minorities in tennis."