Recruiting Profile
Blue Chips Zein and Kessler Will Team Up Again at Florida
by
Colette Lewis
, 12 January 2018
Blue chip recruits Marlee Zein and McCartney Kessler are both joining the NCAA champion University of Florida Gators, but their paths to Gainesville have been starkly different.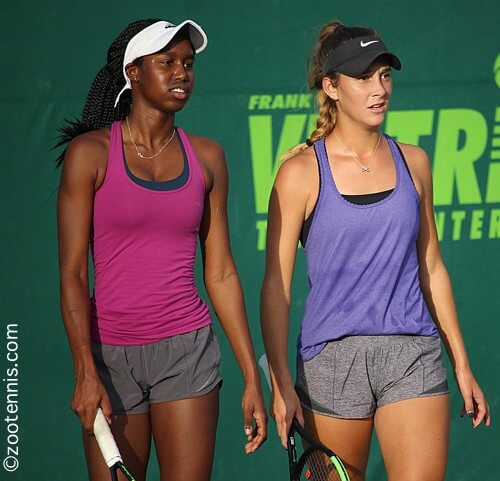 Future Florida teammates Marlee Zein and McCartney Kessler
©
Zoo Tennis
The 18-year-old Kessler, who joined the team this month, verbally committed to Florida more than two years ago, while the 17-year-old Zein, who will arrive in Gainesville this fall, selected Florida just two months ago, after official visits to three other campuses. And while Zein is comfortable in her hometown of Houston, the fourth largest city in the United States, Kessler lives in Calhoun, a town of 15,000 in northern Georgia, another contrast that never hindered their budding friendship.
When an undecided Zein visited Gainesville, Kessler was also taking her official visit to her school of choice, with the two previously acquainted, having played doubles together at the 2017 USTA National Championships in San Diego.
"I think it did help to have another person there that I knew," said Zein, who also visited Vanderbilt, Georgia Tech and Auburn. "I was taking four of them and Florida was my third one. And I knew that she was going there so I knew I would have somebody there I knew."
Kessler also knew somebody in Gainesville: her brother McClain, who is a junior on the men's team.
"My parents are from Florida and we have a vacation house that we share with a bunch of families close by, so that's nice," Kessler said. "And it helps that my brother's there."
Zein's visit convinced her that Gainesville would be the best setting for the next stage of her tennis career.
"I think at Florida, as soon as I got on campus, I got the feeling, I knew I was supposed to be here," Zein said. "The energy of the school and the campus, obviously, the tennis program — they've had really good results. Dave [associate head coach Balogh] and Roland [head coach Thornqvist] really care about developing their players, they're really cool and I'm really excited to go there."