Commitment Profile
James Madison Reels In Karpinski For Signing Class
by Sonny Dearth, 12 April 2018
Some might say the James Madison Dukes have reeled in a pretty good recruit in William Karpinski of Potomac, Maryland.
Speaking of "reeling in," how many tennis players can say they've brought in a barracuda on a fishing excursion? Karpinski can.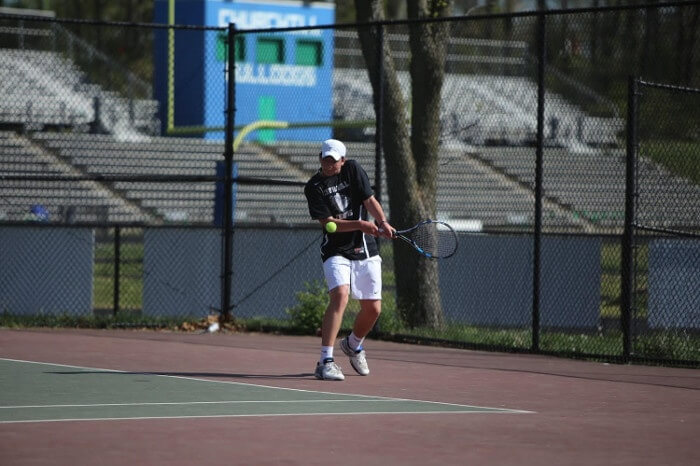 William Karpinski Is Signing With James Madison University
"I really like to go fishing," Karpinski said, recounting a trip with his family to Fort Lauderdale, Florida. "I caught a barracuda deep-sea fishing nine years ago, when I was 9 or 10. I got the bite and I just wasn't strong enough to reel it in, so my dad helped me. It probably took about two minutes."
Back on land, Karpinski has played tennis since age 5. It came naturally since his parents had played college tennis in Maryland - Anne at Mount St. Mary's and Kevin at Frostburg State - and his two older brothers also were playing. "It was nice to join them on the court," William said.
Karpinski said he also played basketball and soccer until he was in the seventh grade, "but tennis was always my favorite."
Now a three-star recruit, Karpinski has been a four-star. As of March 12, he was ranked ninth among seniors in Maryland, 40th in the Mid-Atlantic Section and 205th in the nation.
He's looking to play many Men's Open tournaments as he prepares to head to Harrisonburg, Virginia, in August to play for coach Steve Secord's Dukes.
"The jump to college is going to be pretty big," Karpinski said. "I'm kind of an all-court player right now, but I've been working on my serve and my forehand a lot lately. I'm kind of a big guy (6-foot-3, 187 pounds), so I've been getting some more pop on my serve, getting more comfortable with coming to net."