Commitment Profile
In Sickness and In Health, Texas-Bound McDonald Loves Tennis
by Rhiannon Potkey, 1 May 2018
Being in the hospital for several months wasn't a fun experience for Evin McDonald. But it did lead to a discovery that has greatly enriched his life.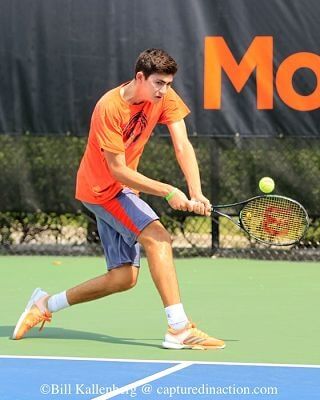 McDonald took a trip overseas with his family at age 5 and contracted an unknown illness. He couldn't walk for a month, and was confined to a hospital bed as doctors tried to figure out what was wrong.
To stay entertained, McDonald watched sports on television. He happened to see Rafael Nadal playing in a tournament with his clam-digging pants and colorful bandana and was transfixed.
"It was inspiring to him," McDonald's father, Larry, said. "He told us when he felt better he wanted to try that, so he tried tennis and really enjoyed it."
From not being able to walk to moving fluidly around the court, McDonald has developed into a blue chip recruit. The junior from Bethesda, Maryland recently committed to Texas.
McDonald didn't know much about Texas when the coaches first contacted him. But the more research he did about the school and the tennis program, the more interested he became.
He made visits to Duke and Northwestern, but realized Texas was the place he wanted to be once he graduates from high school in 2019.
"The most important thing to me was being able to improve and take my tennis to the next level, and I believe Texas is the best place for me to really do that," McDonald said. "I feel like I can make an impact on that team in the first couple of years there."