Blue Chip Brooksby Sees Growth Potential At TCU
by Rhiannon Potkey, 8 May 2018
(Editor's note: Since this article was published, Brooksby de-committed from TCU and signed a National Letter of Intent to play at Baylor)
It wasn't the typical morning routine for a kindergartener. Before leaving for school each day, Jenson Brooksby would grab a tennis racket and rush out to the driveway.
He would hit a soft tennis ball against the garage door until his parents came out to start the car.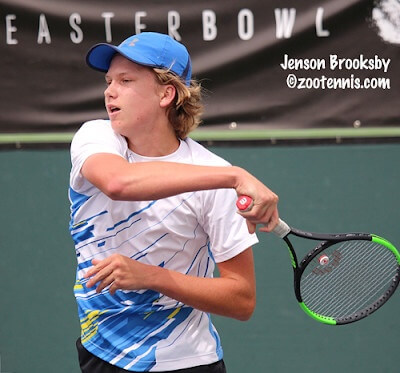 "Nobody ever told him to do that," said Brooksby's mother, Tania. "He just had to get some of his energy out because he had so much. He was bouncing off the walls when he was younger."
Brooksby found an outlet for his constant motion in sports, and tennis became his favorite. The junior from Carmichael, California has developed into a blue chip recruit with professional aspirations.
He recently committed to TCU, putting trust in head coach David Roditi and assistant Devin Bowen to help him reach his goals.
"The most important thing to me was Devin and David and their mindset of how they are going to help me get better as a player," Brooksby said. "I feel like they can help me get to the next level, and I really love how TCU was a smaller school with smaller class sizes."
Brooksby thoroughly researched every college he considered. He visited nine schools, and made a list of the pros and cons of his favorites once he narrowed down the options.
"We had two questions for him to answer: Is this a place you want to live afterwards? And if you are injured and couldn't play tennis, would you still want to go to that school?" his mother said. "If he couldn't answer yes to both of them, we knew it wouldn't be the right place for him."
Brooksby, who has been homeschooled since the sixth grade, has a 4.3 GPA and places a high value on academics.
"Obviously, the biggest thing with college tennis is you can get a scholarship to get your education. That is big for me," said Brooksby, who captured the Boys 18s Easter Bowl title last month. "I also feel like college can be a good tool to help you go pro too. You can grow mentally and physically, and there are so many different aspects you can learn in college that can help you on the pro tour."
Brooksby was born and raised in the Sacramento area. He has remained with the same coach (Joseph Gilbert) at the same academy (JMG Academy) since he began playing tennis.
"He is a great coach and I love the familiarity," Brooksby said. "I've been doing it my whole life and I am comfortable there."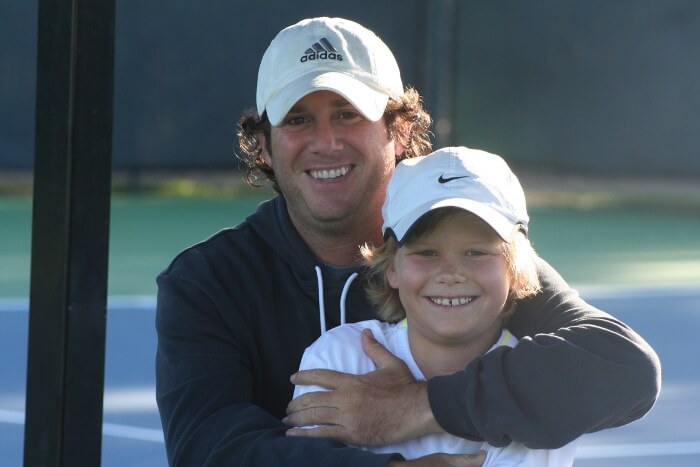 Joseph Gilbert Has Been Brooksby's Coach From Day One
Brooksby played basketball, soccer and football when he was younger before deciding to strictly focus on tennis.
"I love the responsibility that comes with being out there by yourself," he said. "I just felt like I really loved tennis the most out of those sports and wanted to devote more time to it."
Although tennis and studying consumes most of his life, Brooksby always carves out a few hours each week for the piano. He's been playing since he was 7 and used to have weekly lessons.
"It's really fun just being able to go up there and read music and start playing," he said. "I like the Mozart classic songs. They are longer and have more notes, but once you learn them and master them they are really fun."
Being able to master complex situations with patience and persistence is a skill that translates to the tennis court for Brooksby.
"I feel like the strength of my game is my competitiveness and fight and just my consistency as well," Brooksby said. "I keep moving the player around from side to side with long points and make them earn everything. I feel like that is my best trait."
From a very young age, Brooksby has displayed a competitive fire that his parents instantly noticed.
"He tries hard at everything he does, not just tennis," his mother said. "When he sets his mind to something, it is like 'Get out of the way.'"
During his college search, Brooksby wanted to attend a college with a strong football program. He is "obsessed with sports," and has gained a reputation as a human search engine for sports-related facts and figures.
"If we have something we don't know, instead of googling we just ask Jenson and he knows. It is insane," his mother said. "He just has an incredible memory. He knows the statistics of everybody on the basketball team that is playing. We think he is going to be a sports analyst or something."
Although Brooksby knew TCU was where he wanted to play in college, reaching that point required careful consideration.
"It was hard for him to make such a big decision," his mother said. "We met so many wonderful people and saw so many beautiful campuses. It wasn't easy narrowing it down."
Brooksby told the TCU coaches about his commitment right after the Horned Frogs clinched the Big 12 Conference regular-season title. Once he steps on campus in 2019, Brooksby wants to help them win a few more championships.
"I am excited to have a lot of people there cheering and supporting the team, but also when you are playing on the road having people cheer against you," he said. "Just the feeling of having more fans and getting to play more matches every week against really quality players is really fun."
Leave a Comment
More Recruiting Profiles
17-Sep-2019
SMU Tops the List: Five-Star Krall Commits to Mustangs
Liam Krall is announcing his commitment to SMU. The five-star senior from Bronxville, New York likes the school's location, smaller size and opportunity to grow as a player and person.
11-Sep-2019
Dickson Puts in the Work to Earn Division I Opportunity
Jonah Dickson realized he had ground to make up if he wanted an opportunity to play Division I tennis. The Southern California native worked to improve his game and the results followed. The four-star senior has committed to Boston University.
5-Sep-2019
Coaching a Major Influence in Snyder Committing to UCF
Coaching helped Quinn Snyder grow more confident in himself. He's hoping coaching at the college level can improve his development even more. The five-star senior from New Jersey has committed to the University of Central Florida.
About Rhiannon Potkey
Rhiannon Potkey is a veteran sportswriter with more than two decades of experience in journalism. Potkey has covered many sports at many levels and has a passion for finding great stories. Potkey has covered the U.S. Open, junior sectional and national events, college conference championships and Davis Cup matches. Potkey is currently Content Strategist for Tennis Recruiting. You can reach Rhiannon by email at
[email protected]
.