Recruiting Profile
Kuckelman Twins Were a Package Deal for Nebraska
by Rhiannon Potkey, 30 October 2018
Chloe and Ellie Kuckelman were always going to be a package deal. The twin sisters share a special bond, and they didn't want to be separated during their college tennis careers.
They knew it may not be easy to find a Division I program willing to recruit them both, but Nebraska showed great interest from the very start.
Head coach Scott Jacobson and his staff made the twins a priority, and supported their interests beyond just tennis.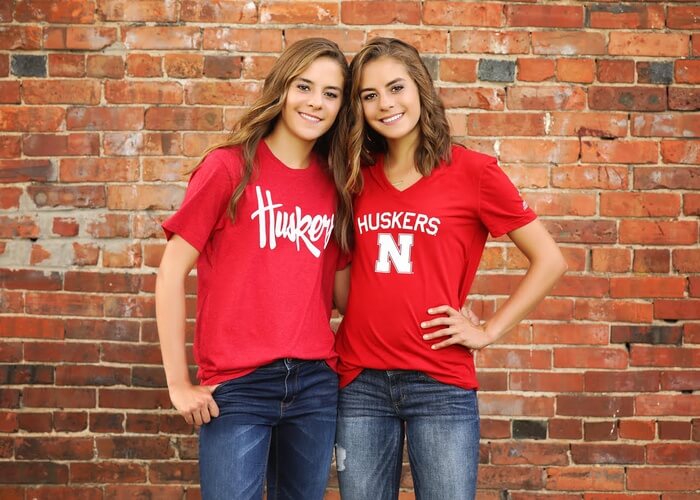 Twins Chloe and Ellie Kuckelman are Signing with Nebraska
©
The Rye Studio
The four-star seniors from Overland Park, Kansas are both signing with the Huskers next month.
"Both of us fell in love with the campus and the town on our very first visit," Ellie said. "We just really felt connected to the coaches and the team, and everything felt kind of right with us there. I just feel like we couldn't have made a better decision. We were just so sure about it."
Once they were both offered scholarships, the twins didn't need much time to discuss it with their parents and commit.
"The coach said it was the soonest anyone has responded back to accept an offer. We just knew it was the place we wanted to go," Chloe said. "They have really strong academic achievements in their athletic programs, and Coach Jacobson is just a very genuine person. He really wants to help each player develop skills and improve their game."
The Kuckelmans began playing tennis at age 4 while visiting their neighbor's house. They were hitting balls against the garage door, and their neighbor suggested they take lessons.
Their parents enrolled them in a weekly class, and they eventually joined a club and started playing tournaments. The twins juggled four sports throughout much of their early childhood, participating in tennis, basketball, softball and soccer.
By middle school, they narrowed their participation to just tennis and basketball. They have remained multi-sport athletes in high school, with Chloe playing point guard for Blue Valley North High and Ellie playing shooting guard.
"It's a good break for us physically and mentally to go from one sport to another and having one be a team sport and one more of an individual sport," Chloe said. "The Nebraska coaches were very supportive of us being multi-sport athletes. That is something kind of hard to find a lot in girls tennis. Most coaches just want you to focus on tennis, but Coach Jacobson really admired that and thought it was good for us."
Marco Rodriguez began working with the Kuckelmans at Overland Park Racquet Club's KCUT program when they were 7. He immediately noticed a difference in the twins compared to other kids in the group.
"They are phenomenal athletes and it's obviously made my job a lot easier to develop them as tennis players," Rodriguez said. "They have the ability to translate what I am saying about hitting a certain shot into action without me even showing them. They also get to some balls they shouldn't get to. You can see their dynamic balance when they are jumping to hit an overhead smash and other shots."
Like all-time doubles greats Bob and Mike Bryan, the Kuckelmans are mirror twins with an interest in music. Chloe is a lefty and plays in the deuce court in doubles while Ellie is a righty and plays in the ad court.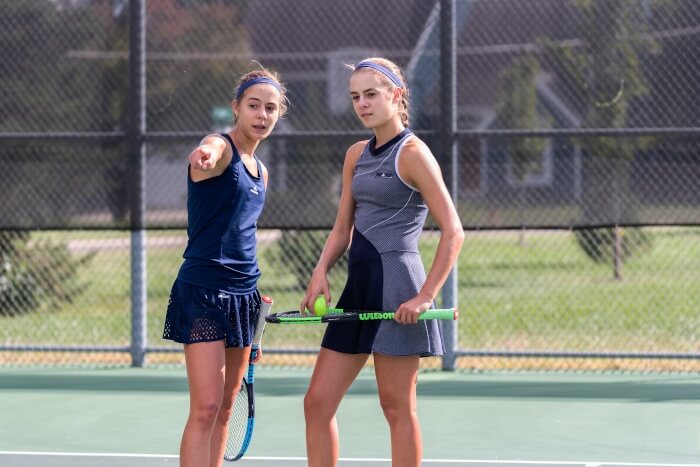 Twins Chloe and Ellie are Doubles Partners
Both have been playing the guitar since they were 9, and spend a lot of free time in their music room writing, singing and playing music.
"We have a band, although I don't know if you can call it a band since we've never been out of our basement," Chloe said with a laugh. "But we are friends with some other twins who the play the keyboard and we just love going down there and playing around."
Their creative side goes even deeper than music. Ellie enjoys photography and Chloe is interested in graphic design. Ellie took a digital imaging class in high school, and received her own Canon camera last year.
"My mom was a photographer so she continues to teach me," Ellie said. "I am still researching what kind of photography I might want to do, but I feel more inclined to travel photography like National Geographic and wildlife stuff."
Although the twins share many similar interests, they are very much individuals with different personalities.
"Ellie definitely expresses her emotions more outwardly. I am kind of more quiet and reserved," Chloe said. "On the court, she will express her anger and emotion and I just kind of keep it within. She is also really a girlie-girlie and I am more of a tomboy."
As the twins began looking at colleges, Rodriguez worried that finding a school with space for both might be tough.
"It is always difficult to find one, much less two scholarships," he said. "But Nebraska was just the perfect fit to be quite honest. Everything fell into place and it was a lot easier than I thought it was going to be."
Once Signing Day arrives on November 14th, the twins plan to take part in events at their school and their tennis club.
Splitting up to fully exert their independence in college was never an option. They have experienced all of life's big milestones together, and are excited to participate in even more at Nebraska.
"I have always felt comfortable having her on my team and having that support from each other no matter how your day is going," Ellie said. "I love college tennis, and I want to be able to share that with my best friend."
About CrampsAWAY
CrampsAWAY is proud to sponsor the Countdown to Signing Day series of articles at TennisRecruiting.net.
What is CrampsAWAY Pro?
CrampsAWAY Pro is an all-natural, food-grade liquid supplement that can prevent or instantly stop cramps. CrampsAWAY comes in convenient single-serve packets, perfect for any athlete on-the-go. CrampsAWAY Pro is completely safe and free of any banned substances. It's also NSF Certified for Sport, so athletes can use it whenever needed, with the assurance that they are not putting anything foreign, unhealthy or illegal into their bodies.
Are any elite athletes using CrampsAWAY?
Absolutely! CrampsAWAY Pro has become the go-to cramp solution for many of the best athletes in the world; including pro sports teams in the NCAA, NFL, NBA, MLB and MLS. Also, many top ATP players use CrampsAWAY Pro as a competitive advantage, including John Isner, Jack Sock, James Blake and Tim Smyczek.
Connect with CrampsAWAY on Facebook, Instagram, Twitter, and YouTube - or on their website.
Leave a Comment
More Recruiting Profiles
11-Sep-2019
Dickson Puts in the Work to Earn Division I Opportunity
Jonah Dickson realized he had ground to make up if he wanted an opportunity to play Division I tennis. The Southern California native worked to improve his game and the results followed. The four-star senior has committed to Boston University.
5-Sep-2019
Coaching a Major Influence in Snyder Committing to UCF
Coaching helped Quinn Snyder grow more confident in himself. He's hoping coaching at the college level can improve his development even more. The five-star senior from New Jersey has committed to the University of Central Florida.
4-Sep-2019
Pomona Makes a Friendly Impression on Moore-Thomson
Samantha Moore-Thomson received a warm welcome on her recruiting visit to Pomona College. The four-star senior from Denver realized she wanted to play for a Division III program and Pomona-Pitzer checked all the boxes.
About Rhiannon Potkey
Rhiannon Potkey is a veteran sportswriter with more than two decades of experience in journalism. Potkey has covered many sports at many levels and has a passion for finding great stories. Potkey has covered the U.S. Open, junior sectional and national events, college conference championships and Davis Cup matches. Potkey is currently Content Strategist for Tennis Recruiting. You can reach Rhiannon by email at
[email protected]
.