Recruiting Profile
Mossmer Follows Family History at Stanford
by Rhiannon Potkey, 23 October 2018
Nicole Mossmer arrived at Nike World Headquarters in Oregon to take part in a national team camp for soccer. As she dropped off her bags in the hotel room, she looked out the window and had a clear view of the tennis courts.
It was her athletic epiphany.
Although soccer had been her main sport, Mossmer had the sudden urge to play more tennis. She didn't know why she was experiencing a change of heart. She just knew it felt right.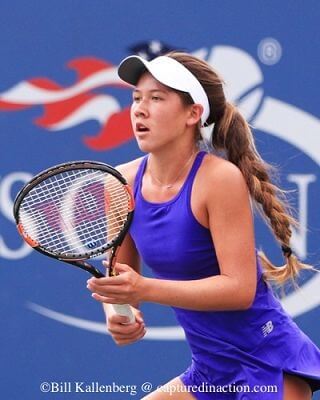 Once Mossmer arrived home to La Jolla, California, she wrote a letter to the Southern California Tennis Association asking for an endorsement to play on the Girls 14s Intersectional team. Her ranking wasn't high enough for selection, but she was granted a spot.
Mossmer ended up clinching the win for the team.
"I just fell in love with the tennis environment at that event. I had so much fun and I knew I wanted to do this," Mossmer said. "It was kind of shocking to my parents. They always thought tennis was kind of my fun thing to do. All my soccer coaches kept asking, 'Are you sure you want to do this?' It was really risky because I didn't have any results in tennis, but I wanted to do it."
Having originally dreamed of playing soccer at Stanford, Mossmer will be prolonging the family's athletic legacy at the school on the tennis team instead. The blue chip senior is signing to play for the Cardinal next month.
Mossmer's mother was an All-American field hockey player at Stanford and her father played soccer at the university.
"I have always grown up with Stanford in my life," Mossmer said. "Obviously, the tennis program is amazing and I have so many friends on the team already who are just the nicest girls. I could just tell it was where I wanted to be."