Good Works
College of Charleston Honored for Community Service
by Rhiannon Potkey, 19 November 2018
The rainy day practice was the perfect opportunity for the College of Charleston women's team to begin planning the program's community service schedule for the fall.
The Cougars gathered in a room and let each player chose a project they wanted to pursue. They believed having a personal investment in the process would lead to a more enriching experience.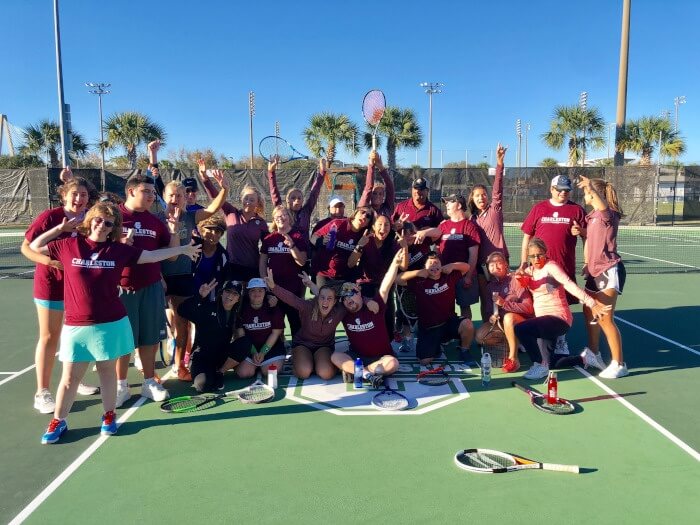 The Cougars Worked With Special Olympic Athletes
They chose to help babies stay warm, visit pet shelters and donate to the homeless. They wanted to raise money for St. Jude's, work with Special Olympics athletes and spend time with inner-city youth.
"It was really cool to see each one of us find something we really care about to try and give back," College of Charleston senior Turner Yates said. "It really makes you want to do it even more because you see how much it means to your teammates. Having the whole team giving back and involved made it even more special."
For the second straight year, the College of Charleston women won a $1,000 grant from the Intercollegiate Tennis Association for doing the most community service hours during the month of October.
The ITA provided grants to three programs based on their participation in the second annual ITA Community Service Month presented by Limoneira. The initiative was created to spotlight the work college tennis teams do in their communities on an annual basis.
During the month of October, more than 1,000 student-athletes served nearly 6,000 total hours of service in their communities or on their campuses. The College of Charleston had the highest total with 390 hours.
The University of Alabama-Birmingham women's team, which worked with Habitat for Humanity and distributed meals to the homeless, generated the most social media engagement and was awarded a $500 ITA grant. The University of Massachusetts, Amherst women's team won the $500 grant from a prize drawing for teams that performed at least 20 hours of community service.