Bracket Challenge
Now Open ... May Madness Bracket Challenge
by Dallas Oliver, 29 April 2019
Nothing beats the excitement of the NCAA tournament! For college tennis fans, May is the time for Madness, and this is your chance to show everyone who's who.
And now it's go time ...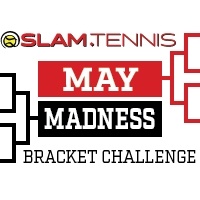 Our sister site, SLAM.tennis, is excited to announce its sixth annual May Madness Bracket Challenge, presented by Tennis Warehouse.
We are hosting bracket challenges for both the men's and women's championships. Click on the challenge links, check out the matchups, and make your picks. With the right combination of skill and luck, you can earn bragging rights by being first among your friends - or first across the nation!
The May Madness Bracket Challenge is now live. Submit your picks any time before the athletes take the court this coming Friday. Entries close on Friday morning, May 3rd at 8am Eastern. Click here to get started:
But there is more than bragging rights on the line. Get lucky, and your bracket can earn free months or years of Recruiting Advantage from TRN. At the conclusion of the championships, we will award prizes for both the men's and women's events. 4 second-prize winners will each receive 6-month subscriptions, 2 first-prize winners will receive 12-month subscriptions, and 1 Grand Prize Winner will receive a 24-month subscription.
So what are you waiting for? Check out the brackets (men, women), and make your picks. The teams are ready... are you?
Enjoy the SLAM.tennis and TRN May Madness Bracket Challenge, presented by Tennis Warehouse.
Leave a Comment
More Website News
16-Sep-2019
Star Ratings Fall 2019 Edition
Now that the rating period is over, here they are... the Fall Star Ratings. Find out right now how many stars you have - as The Tennis Recruiting Network proudly presents the Fall Star Ratings for 2019.
1-Sep-2019
Farewell 2019 Class
The Tennis Recruiting Network bids farewell to the high school class of 2019. Last week's rankings are our final edition of the 2018-19 year - and the final rankings for the outgoing Class of 2019.
12-Aug-2019
Championship Week
The USTA National Championships have now concluded, and gold balls have been awarded to the latest national champions. All week, TRN celebrates these winners - from the East Coast to the West Coast - with coverage of the Nationals. Enjoy the 2019 edition of Championship Week.