The 119th Ojai
Gupta Captures Prestigious Boys CIF Title at The Ojai
by Rhiannon Potkey, 30 April 2019
OJAI, Calif. - Aditya Gupta wasn't sure if he wanted to play high school tennis this year. Most of his peers decided to focus on higher-level training, and Gupta contemplated doing the same.
But one tournament enticed Gupta because of its rich tradition. The Ojai was a title Gupta wanted to pursue.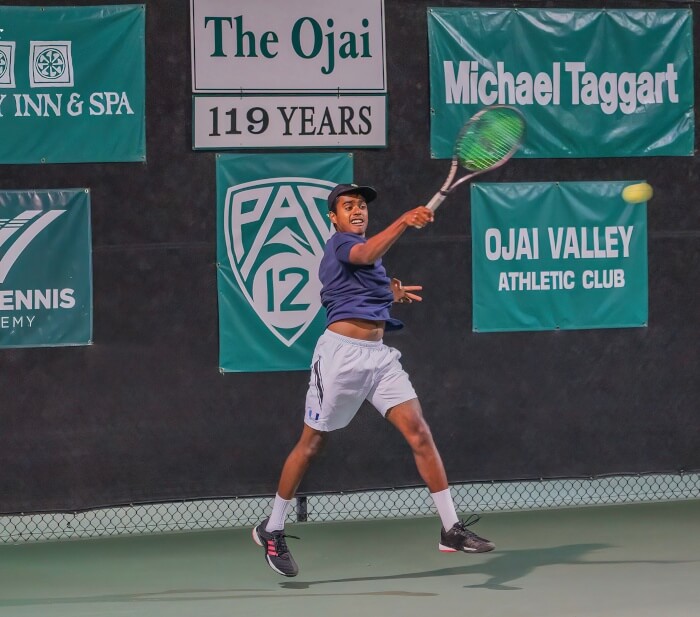 Senior Aditya Gupta Won The Boys CIF Title at The Ojai
The blue chip senior knew about the past legends who have graced the courts at Libbey Park, and wanted to add his face to the picture boards dotting the oak-strewn park entrance alongside the likes of Arthur Ashe, Tracy Austin, Stan Smith Billie Jean King, Lindsay Davenport, Pete Sampras and Bob and Mike Bryan.
Gupta earned his place in history by capturing the prestigious California Interscholastic Federation (CIF) Boys 18s singles title at the 119th Ojai Tennis Tournament last Saturday night. The top seed from University High (Irvine, California) rallied to beat Newbury Park High four-star senior Wally Thayne 4-6, 6-3, 6-2 in the final.
After securing the final point of the match, Gupta was awarded the Farnam Cup, which is the oldest of The Ojai trophies, having been first presented in 1902.
"It really means a lot to win this title because it has so much history," said Gupta, who has committed to Penn. "More people show up to this tournament than normal tournaments. The whole town kind of comes out to watch this, which is great.