College Feature
A Day In The Life: MIT Sophomore Megan Guenther
by Rhiannon Potkey, 15 May 2019
Going to class, practicing, lifting weights, playing matches, eating, studying, getting treatment. College life keeps a tennis player very busy, and time management becomes a valued necessity.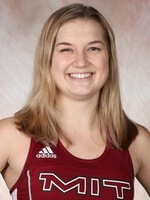 How do players navigate their schedules once they get on campus? We provide an inside look through their own words.
Here is A Day In The Life of MIT sophomore Megan Guenther:
"I am majoring in Earth, Atmospheric and Planetary Science, and MIT has amazing research opportunities for undergrads. I have been working on a project with a professor since last summer, and the overall goal of the project is to better understand the geologic history of the moon and how it forms. It involved looking at materials we brought back from the moon during the Apollo 14 mission. We try to put together the puzzle of how the moon formed and what happened in its history. I was invited to present our research at the Lunar and Planetary Science Conference in Houston in March. It was a crazy opportunity to do this kind of research in the first place, and then less than a year later to be able to go and give a talk to a room full of scientists was really crazy. It was scary, but an incredibly great opportunity.
That made for an interesting semester trying to juggle all the research and my normal classes with tennis.
Mornings
I usually try to wake up around 8:30, but it's usually more like 8:50. I will put on my clothes and make sure I also have my clothes for practice in my bag, and then I will leave my dorm around 9 and walk to my favorite coffee shop, Flour Bakery + Cafe. I always get a large four-shot cappuccino and usually get some kind of pastry for breakfast. Sometimes I only have coffee for breakfast, which is bad. But I usually try to at least eat a granola bar or something.