NCAA Championships
Gore's Begging Nets Role on Tennis Channel's NCAA Coverage
by Rhiannon Potkey, 18 May 2019
When it comes to broadcasting tennis, Sam Gore ain't too proud to beg.
Gore was disappointed once he heard ESPN was no longer planning to televise the NCAA Division I Men's and Women's Tennis Championships.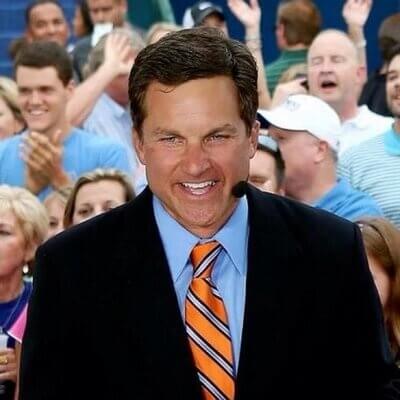 Sam Gore
The announcer and play-by-play commentator is a passionate advocate for college tennis, and enjoys sharing the stories of the teams, players and coaches to a nationwide audience.
Gore approached people he knew at the USTA to see if there was any chance the championships could find a new network home.
If something worked out, Gore wanted to be on the crew.
Gore got his wish once Tennis Channel and the USTA, in conjunction with the NCAA, entered a three-year partnership that makes the network the exclusive television home of the championships.
Gore was offered the play-by-play announcing position, and it took him "less than second" to accept.
"I sort of lobbied for it, and it worked out," Gore said. "Very rarely in this business do you get to ask to be put on something. Usually you are told what you are doing. This is one of those rare blessings."
The historic broadcast deal provides the most coverage of the NCAA championships in television history. Tennis Channel is showing more than 50 hours of live matches from the USTA National Tennis Center in Lake Nona, Florida, with live coverage every day of the 10-day competition.
It began on Thursday with the team quarterfinals, and will continue through the end of the individual singles and doubles events on May 25.
Joining Gore on the broadcasting crew are former USTA President Katrina Adams, who won the NCAA doubles title in 1987 while at Northwestern University, and on-site reporter Hana Ostapchuk.
"I love the college tennis format. I love the energy of it and I love the stories of the student-athletes," Gore said. "There are a lot of inspiring stories because you have kids from all over the world that play college tennis."