Doubles Nationals
Gold Balls and New Cars Bring Joy to National Doubles Champs
by Rhiannon Potkey, 26 August 2019
Kelsey Mize bet on herself at a young age.
When she was 12, Mize made a wager with her father that if she ever won a gold ball he would buy her an Audi.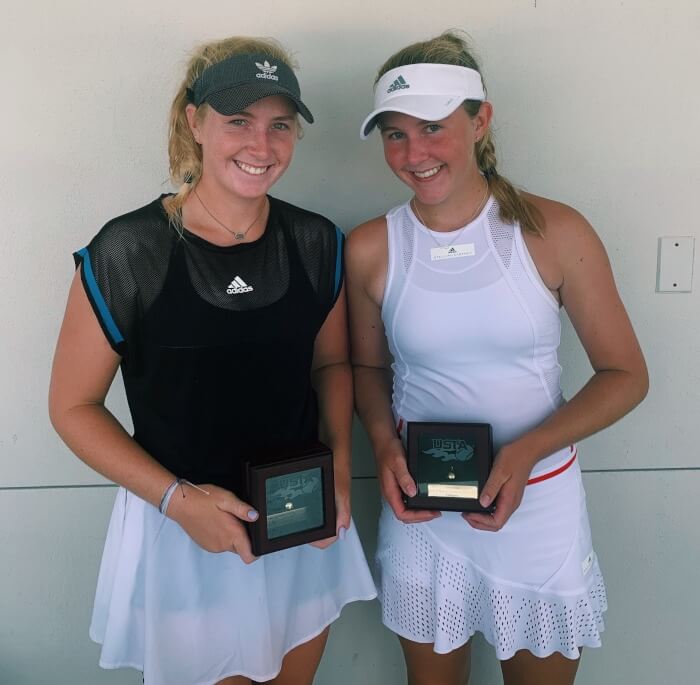 Girls 18s Champions Kelsey Mize and Emma Staker
© Contributed Photo
Mize had only been playing tennis for a year, and her family wasn't sure how far she would take the sport.
Jon Mize will be making a trip to the car dealership in the near future after his daughter teamed with Emma Staker to win the Girls 18s title at the USTA National Doubles Championship on Sunday.
The second-seeded tandem from Oklahoma rallied from a third-set deficit to beat No. 4 Elizabeth Fahrmeier and Megan Heuser 6-2, 3-6, 7-5 at the USTA National Campus in Orlando, Florida.
Kelsey Mize can already envision herself behind the wheel of her new Audi Q5 SUV.
"My parents didn't think I was going to actually get a gold ball when I first made the bet with my dad," said Mize, a five-star senior who has committed to Ole Miss. "But right after we won, he said, 'I guess I have to keep my word.' I was supposed to get a new car after I graduated anyway, so now it will be an Audi."