Commitment Profile
Different Blueprint to Blue Chip for Ohio State-Bound Ratliff
by Rhiannon Potkey, 7 August 2020
The stereotypical tennis blueprint to becoming a blue chip does not apply to Sydni Ratliff.
The Gahanna, Ohio native didn't move to a better climate to attend an academy. She never switched to homeschooling. She doesn't spend hours and hours on the court every day.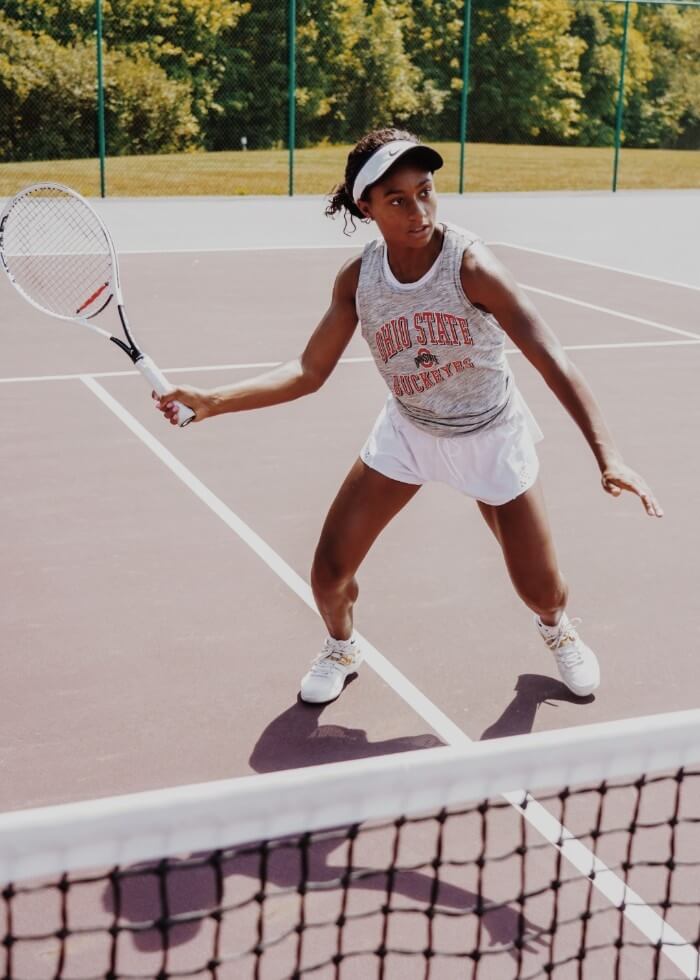 Rising Senior Sydni Ratliff Has Committed to Ohio State
© Contributed Photo
Ratliff's success has come without sacrificing some of the normal childhood experiences.
"I think it works for me because of my work ethic and being really disciplined," Ratliff said. "I know I can't train five hours a day every day like some kids do, so I am really focused when I train for the two hours on the few days I am out there. I try to make the most of everything I get."
Ratliff received a lot of interest from Division I colleges, and ultimately chose to stay close to home by committing to Ohio State. The rising senior has grown up attending Ohio State matches, and fell in love with the college atmosphere while watching the Buckeyes.
"Coach (Melissa) Schaub knows my game the best of any coach in the country," Ratliff siad. "I have known her since I was 12 years old and I really like her coaching style. I am honored to be able to play for her."
Although she lives a short drive from Ohio State's Columbus campus, Ratliff didn't rule out attending other schools. She was interested in Harvard, North Carolina State and Florida as well.
"The coaches assumed I always wanted to go there, but I really wanted to have an open mind and visit different places and see different things," Ratliff said. "Obviously because of the coronavirus, I didn't take official visits anywhere so that was difficult. But I did a virtual visit with Florida and that was pretty cool. I am appreciative they made the effort to do that."
Before making her commitment official, Ratliff spoke with former Ohio State star Francesca Di Lorenzo.
"She really gave me a good idea of what life is like at Ohio State. To be able to hear her perspective of it was extremely helpful," Ratliff said. "She told me it was a no brainer to commit to Ohio State because it had so much to offer and they take such good care of their athletes."