Player Spotlight
Spotlight Players of the Week: Brian Bilsey, Natalie Fuller
by Rhiannon Potkey, 27 October 2020
SPOTLIGHT ON Brian Bilsey (Belmont, California)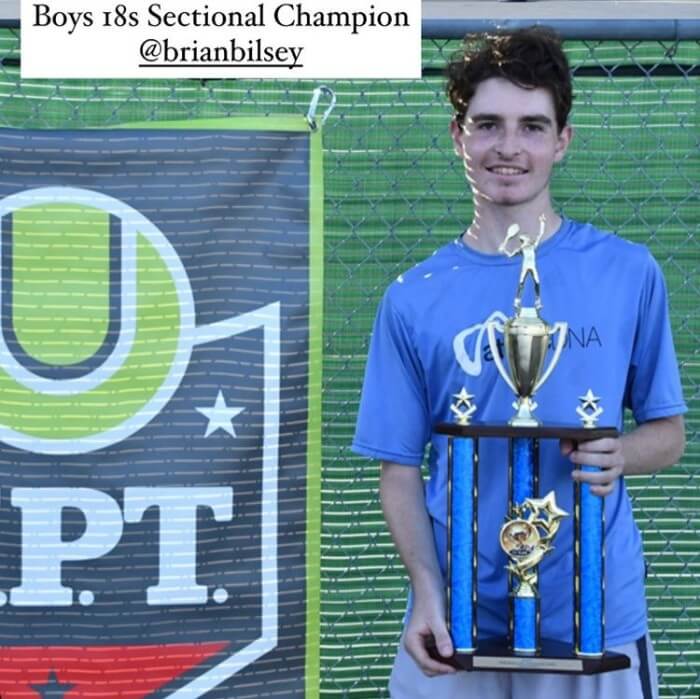 Music on your playlist: I used to listen to a lot of EDM, but recently I have been listening to a lot of rap. It just gets me pretty hyped for matches.
Dream vacation destination: I have only been out of the U.S. once, so I think I'd like to go somewhere out of the country, possibly Europe. That could be really nice.
Favorite food: I love pepperoni pizza
Favorite athletes: Klay Thompson and Steph Curry. I am a huge Warriors fan and love watching them play together. Roger Federer. He's been in the game for so long and it's been awesome to see his career play out.
Future occupation: I really have no idea yet. I am thinking about getting into business a little bit for college, but I really have no idea what I will major in or anything.
If you could have dinner with anyone dead or alive, who would it be: Roger Federer. He's just such a smart and funny guy. I think it would make for a really nice conversation and he would just give me some great tips for life in general. I find him super interesting and I think it would be really cool to meet with him.
Must-watch TV show: The Mandalorian. My family is pretty big Star Wars fans.
Favorite movie: The Dark Knight. It had a lot of action and the character development was also really cool.
If I am not playing tennis, I am … either doing homework or playing video games.
Instagram handle: @brianbilsey