Coverage Announcement
Hard Court Championship Week
by Dallas Oliver, 13 August 2012
In the world of U.S. junior tennis, last week was the highlight.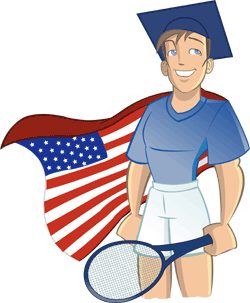 All across the country, the top American juniors were competing for gold balls at the USTA National Championships. National titles were awarded for both boys and girls in all four age divisions.
This week, the Tennis Recruiting Network highlights those great tournaments with our annual Championship Week coverage. Every day, TennisRecruiting.net will feature photo galleries and articles that celebrate the cream of the crop in American junior tennis.
Here is our planned coverage schedule:
Championship Week Series
Things get started this afternoon at 5pm Eastern / 2pm Pacific - with images from the Girls 14s and 12s Nationals.
We hope you enjoy our complete coverage schedule of Championship Week. Make sure to check in each day for coverage of the top boys and girls from across the country.
Leave a Comment
More Website News
11-Oct-2013
Countdown to Signing Day
We are now just a little over a month away from Signing Day. November 13th is the first day of the one-week fall signing period, the only opportunity this calendar year for seniors to sign a National Letter of Intent with a Division I or Division II school. As always, The Tennis Recruiting Network is here to keep you up to date on all the happenings.
16-Sep-2013
Top Prospects '13-'14 - Fall Edition
After months of waiting, here they are... the Top Prospects. Find out right now how many stars you have - as The Tennis Recruiting Network proudly presents the Fall Top Prospects for 2013-14.
29-Aug-2013
Best Wishes, Class of 2013
Every year, people congratulate their graduating seniors, wishing them well as they move on from their high school days to bigger and better things. Saying goodbye to the Class of 2013 at TennisRecruiting.net is no different. This week's rankings are the last listings for the 2012-13 year - and they are also our final rankings for the outgoing Class of 2013.