Recruiting Profile
Countdown: Blue Chip Andrew Fenty Goes Blue
by
Colette Lewis
, 26 October 2017
Andrew Fenty didn't know any of the players on the University of Michigan team when he began the recruiting process at the start of his junior year. But the 17-year-old blue chip from Washington D.C. did know the Wolverines' associate head coach Sean Maymi, who spent several months as his coach at the Junior Tennis Champions Center in College Park, Md. That connection led to an unofficial visit to Ann Arbor, which introduced Fenty to the team and the campus, followed by an official visit this fall, a trip that resulted in Fenty's verbal commitment to Michigan for next fall.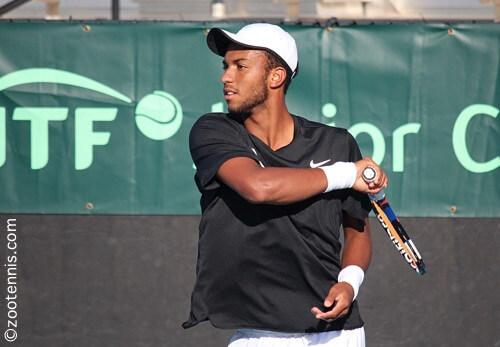 Andrew Fenty Has Committed To Michigan
©
Zoo Tennis
Ranked 12th in the Class of 2018 by the Tennis Recruiting Network, Fenty had several options on both coasts. He considered USC and UCLA on the West Coast, where his father Adrian, the former mayor of Washington D.C., lives. He also looked at Virginia and Columbia, closer to his current home and his mother Michelle, twin brother Matthew, and younger sister Aerin. Yet the school in between the two coasts proved to be the best fit.
"I felt it was good academics and good athletics, that's what it really came down to," Fenty says. "My parents wanted me to go to a really good academic school. They didn't care about tennis that much, just academics."
Fenty, a Laurel Springs student who is interested in computer science, does have ambitions to play professional tennis, so reuniting with Maymi, who returned to Michigan after several years in private coaching, seemed the perfect solution.
"Obviously it helped a lot," Fenty says of his connection with Maymi. "He was my coach for six months, went away for I think like two years, and then we started talking again, after we couldn't talk because of rules. But why not finish it, finish what we started?"
Fenty's official visit this fall provided all the encouragement he needed.
"After I took it, I knew it was the right fit," Fenty says. "It was obviously more serious [than the unofficial visit], because I was considering the school. I went to a football game and that was cool and I walked around different parts of the campus."