NCAA Championships
Jubb, Perez-Somarriba Capture NCAA Division I Titles
by Rhiannon Potkey, 28 May 2019
Paul Jubb flew home to the UK on Monday with a special item tucked snugly in his backpack.
The NCAA men's singles championship trophy may have raised a few eyebrows through security, but Jubb was happy to relive the memory.
The University of South Carolina junior became the first player in program history - and the first British player in NCAA history - to win the crown after defeating top-seeded senior Nuno Borges of Mississippi State 6-3, 7-6 (2) on Saturday in an all-SEC men's final at the USTA National Tennis Center in Lake Nona, Florida.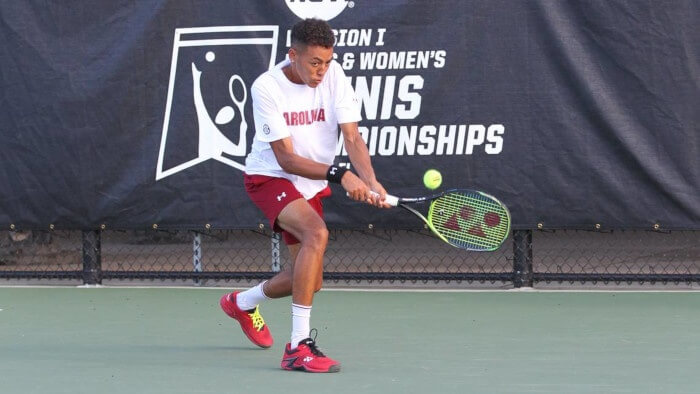 Paul Jubb is South Carolina's First NCAA Singles Champion
© South Carolina Athletics
"It's something I can cherish for the rest of my life," said the fourth-seeded Jubb, a native of Hull, England. "It's such a great achievement and something that can hopefully boost this program and keep it on the right track. It's just great knowing I have contributed massively to it."
In the women's singles final, top-seeded Estela Perez-Somarriba of the University of Miami defeated second-seeded Katarina Jokic of Georgia 6-7 (1), 6-2, 6-3 to become the second NCAA singles champion in Miami program history, following Audra Cohen's title in 2007.
"It's been an unreal week. Dreams come true," said Perez-Somarriba, a junior from Madrid, Spain. "Honestly, I am just really, really happy I got to experience this with my coaches, teammates and everyone in my family. They have been by my side for many, many years. I am so grateful."