Special from
Zoo Tennis
Before the Civil Rights Act, before Billie Jean King beat Bobby Riggs in the Battle of the Sexes, before Title IX changed the sports landscape by providing women with collegiate opportunities, there was Roberta Alison Baumgardner.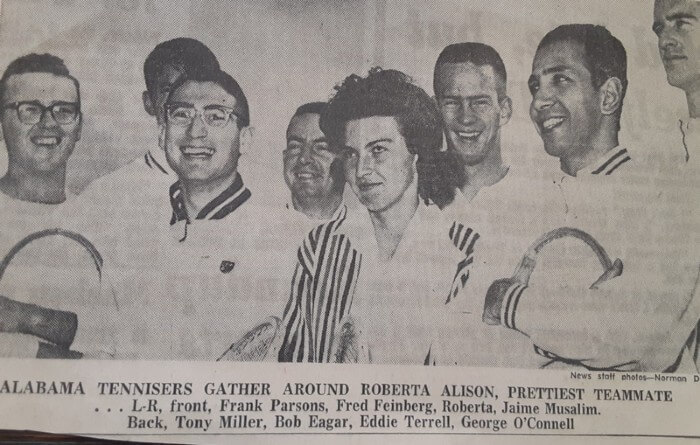 Robert Alison Baumgardner Played on Alabama's Men's Team
© Contributed Photo
An accomplished junior who advanced to the top echelon of amateur players in the United States, the teenager from Alexander City, Alabama did not view herself as a trailblazer when she joined the University of Alabama's men's tennis team in 1963, becoming the first woman in Southeastern Conference history to play a varsity sport. She was simply seeking an opportunity to compete.
"I'm in this thing by myself and for myself," Alison Baumgardner told Associated Press sportswriter Kelso Sturgeon in a 1965 article. "I wanted to play tennis in the SEC because I could get the best competition possible. That is the only reason."
Jason Morton, the Alabama men's coach, had been following Alison Baumgardner's impressive junior career, and with the support of athletic director and legendary football coach Bear Bryant, sought and received SEC approval for allowing women to compete on men's varsity teams.
"When she was 17 or 18, she was going to go to college but she couldn't keep playing tournaments, so at that time she knew the coach at Alabama and she wanted to play," said Ed Terrell, Alison Baumgardner's teammate and doubles partner on the men's team. "So he said, 'let's do something different, let's just let you join the men's tennis team. Jason talked Bryant into it I'm sure.'"
Alison Baumgardner was following in her father's footsteps in Tuscaloosa, with Cal Alison a top player for the Crimson Tide in the 1920s. Cal had married Roberta's mother, Elizabeth Russell, the daughter of the founder of Russell Athletic, headquartered in Alexander City, two hours east of Tuscaloosa. With her father's background in the sport, there was never any doubt she would be a competitive tennis player, according to her son, Earl Baumgardner Jr.
"He was really the motivating force behind her playing. He pushed her pretty hard and she spent a lot of time on the court that she might not have wanted to," Baumgardner Jr. said of his mother, who died in 2009 at age 65. "She had to hit 20 shots down the line and if she got to number 19 and she missed, she had to start all over again. This was probably as an 8-year-old."