2021 Clay Court Nationals
Harding Ends Grueling Run with Girls 12s Title
by Sonny Dearth, 20 July 2021
About three years ago, Patrick and Orla Harding moved the family from Concord, Massachusetts, to south Florida so their daughter Ciara Harding could train full-time at the Rick Macci Tennis Academy in Boca Raton.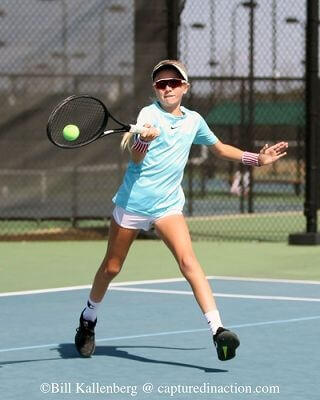 Girls 12s Singles Champion Ciara Harding
© Bill Kallenberg/CapturedInAction
That decision came to fruition over the weekend as Ciara, the youngest of their four kids, won the singles title of the USTA Girls' 12 National Clay Court Championships at Lauderdale Tennis Center.
Harding, 11, a wild card entry who was the No. 3 seed, won seven singles matches to emerge atop the draw of 128, culminated by a 6-4, 7-5 decision against Kristina Penickova of Campbell, California, one of the No. 17 seeds.
The week was grueling enough for Harding that she needed to go to a doctor the next day. She emerged unscathed after what she called the biggest tournament she ever has won.
"I'm much more used to the heat because I train down here, but it was a real challenge to keep hydrated," she said. "I had to eat lots to have enough energy."
Macci said he works with Harding, who's rated the No. 1 rising sixth grader in the nation, for an hour a day.
"She's a great competitor. She loves to attack, loves to hit early. She's just a joy to coach."