Special from
Zoo Tennis
GRAND RAPIDS, Mich. - Jack Secord closed out his time in the 12s division in the best way possible, winning both the USTA Clay Court and USTA National Championships last summer. On Monday, the blue chip from Lake Forest, Illinois won his first title in the 14s division, defeating Sean Grosman 6-4, 6-2 in the final of the USTA Level 2 at the Grand Rapids Racquet and Fitness Club.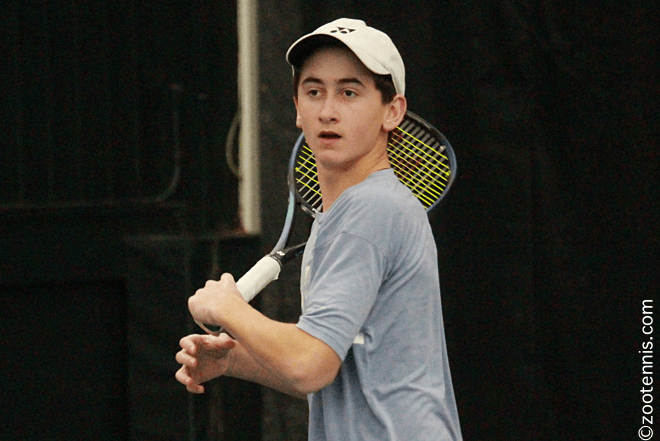 Singles Champion Jack Secord
© Zoo Tennis
"It carries over a little bit, but it's a little bit different now," 13-year-old left-hander said of his success last year. "Some guys could be a year older than me and also bigger and stronger, so it's a lot harder."
Secord had already enjoyed enough success in the 14s to warrant the top seeding in the three-day tournament, and he had no trouble reaching the final, blanking two of his five opponents while dropping a total of just 15 games. In the semifinals, Secord defeated unseeded Lukas Phimvongsa 6-4, 6-0.
Grosman, also a 13-year-old left-hander, kept himself fresh for the championship match, dropping 12 games in his four singles matches and beating Abraham Rosett 6-1, 6-0 in the semifinals. Rosett had upset No. 2 seed Trenton Kanchanakomtorn in the quarterfinals.
In the singles final, Secord saved the only break point he would face in the first set during the second game, while No. 6 seed Grosman got himself into a 15-40 hole serving at 2-all and was unable to get out of it, with Secord converting his second break point.