Special from
Zoo Tennis
Seventeen-year-old Bruno Kuzuhara began his climb up the ITF Junior Circuit rankings two years ago, then passed an important milestone last year, when he won his first Grade 1 title in Paraguay. An 18s doubles champion in Kalamazoo last August and a finalist at the Orange Bowl in December, Kuzuhara was poised for an exceptional 2022, and he fulfilled that promise quickly, claiming the boys singles and doubles titles at the Australian Open Championships and reaching No. 1 in the ITF Junior rankings.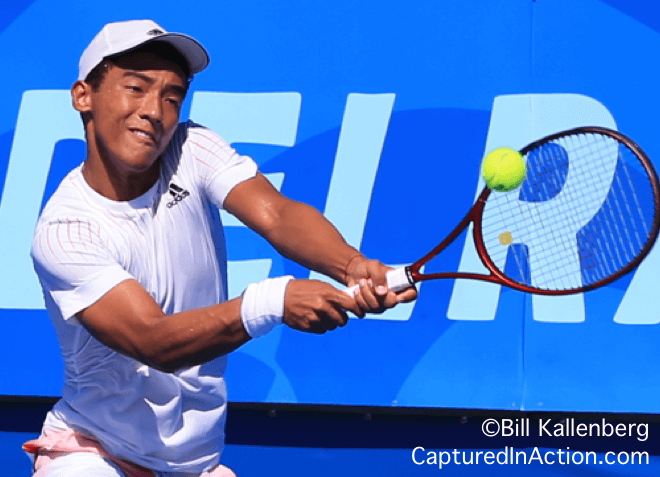 Bruno Kuzuhara Recently Decided to Turn Pro
© Bill Kallenberg
The Coconut Creek, Florida native has also been active on the ITF and USTA Pro Circuits' lower levels, earning eight ATP points in his 11 tournaments. Earlier this month, he received a qualifying wild card into the ATP Delray Beach Open, where he fell to Bjorn Fratangelo 6-1, 7-5.
I spoke by phone with Kuzuhara after that match, and we discussed several topics, including his ATP debut, the three-hour and 40 minute singles final in Australia, his recent decision to turn pro and the relationship he's developed with USTA National Coach Brian Baker.
Colette Lewis: What are your thoughts on that dramatic Australian Open final, with [Jakub] Mensik cramping at the end?
Bruno Kuzuhara: It was a very unfortunate way to end the match. But it was a plan of mine to make the match very physical. I knew going into the match that both of us weren't going to be playing our best tennis because of nerves, so you just extend points and really make him work for everything. Hopefully that would turn into a big advantage for me, which it ended up doing. I was very sad the way it happened, it's unfortunate. That match really wore on me and I felt emotionally tired and physically tired for the next three, four days.