Notes
The table above lists all recruits as of May 23, 2022. In addition to the Star Rating, we display the highest TRN, UTR, ITF junior, and WTT rankings for each player since January 1, 2022, and for international players we display the TRN ranking they would hold if eligible.
Also Receiving Consideration
We reviewed the resumes for more than 50 teams for these rankings. Teams that received strong consideration and almost made our list are (alphabetically) as follows: Ohio Northern, Regis (MA), Trinity (CT), Trinity (TX), Whitman
Soaring Above
Emory University is a powerhouse in NCAA Division III Tennis. The Eagles have reached the NCAA finals 7 of the last 9 seasons, winning three titles along the way. They have won 8 national championships overall - the most recent coming in 2021.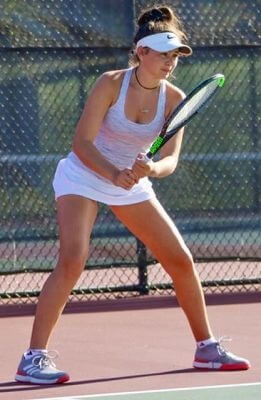 Emily Kantrovitz is heading to Emory
Emory Head Coach Amy Bryant has had some fantastic recruiting classes along the way, posting ranked recruiting classes every season since we started ranking them in 2010. Coming into this year, Emory has had Top 10 classes in 10 of 12 seasons, earning the No. 1 overall class in 2013, 2014, and 2017.
Add 2022 to the list.
The Eagles are the only squad on our list where two recruits have achieved UTR ratings in the 9+ range, with 4-Star seniors Iris Berman (Los Angeles, Calif.) and Emily Kantrovitz (Saint Louis, Mo.) both reaching that number. 4-Star athlete Alyssa Margolin (Armonk, N.Y.), 3-Star Izabele Antanavicius (Villanova, Penn.), and international recruit Alessia Martinez of Peru complete a class that ranks No. 1 among NCAA Division III programs.
Coach Bryant will need these new Eagle recruits to contribute quickly, with only three of the Top 6 singles players returning from last year's NCAA Elite Eight squad.
High Five
Competition was close at the top, with Williams College garnering support from many coaches.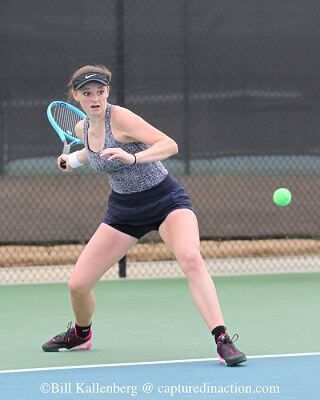 The Ephs show up in the No. 2 spot on our list. 5-Star senior Anabella Siegel of Cary, N.C. has a UTR rating of 9.44 - highest among all Division III recruits. 4-Star senior Mia Thomann (Chicago, Ill.) and 3-Star athlete Jane Ladaga (North Las Vegas, Nev.) complete the three-person recruiting class for Williams Head Coach Anik Cepeda.
The Johns Hopkins Blue Jays hold down the No. 3 ranking with a deep, five-person class. 4-Star seniors Julia Xiao (Chapel Hill, N.C.) and Essence Wang (Newbury Park, Calif.) will be joined by 3-Star seniors Imani Ghosh (Germantown, Md.), Niamh Harding (Delray Beach, Fla.), and Kamila Wong (Palo Alto, Calif.) in Baltimore next Fall.
The Claremont-Mudd-Scripps Athenas and Carnegie Mellon Tartans round out your Top 5 at No. 4 and 5, respectively.
Conference Call
The 25 recruiting classes on our list come from 9 different conferences, with 2 conferences standing strong - the NESCAC and UAA.
The NESCAC has seven - seven! - programs in our rankings. In addition to No. 2 Williams, the conference is represented by the Wesleyan Cardinals (No. 6), Middlebury Panthers (10), Tufts Jumbos (11), Amherst Mammoths (13), Colby Mules (17), and Bowdoin Polar Bears (23).
The UAA is hot on their heels with 6 ranked classes. We have already mentioned top-ranked Emory and Carnegie Mellon (5). Other UAA classes in our rankings are the Wash U Bears (7), Chicago Maroons (9), Brandeis Judges (19), and CWRU Spartans (22).
The only other conference with more than a pair of programs on our list is the Liberty League with 3 ranked recruiting classes.
Drop Shots
Scattershooting across the rankings …
Commonwealth Statement - 14 states have at least one recruiting class in the rankings. As usual, Massachusetts has more ranked classes with 6 total on the list: Williams (No. 2), Tufts (11), Babson (12), Amherst (13), MIT (19), and Brandeis (19). New York is next with 3 ranked classes.
Stringing Them Together - 18 of the 25 programs in our 2022 rankings also appeared in 2021.
Welcome Aboard - Gustavus Adolphus has put together its first ranked recruiting class in school history. Allison Szalay (Urbandale, Iowa) and Molly Austin (Arden Hills, Minn.) comprise the No. 25 class for Gusties Head Coach Jon Carlson.
Perfect Attendance - 2022 marks the 13th year of our D-III rankings, and five programs have appeared in all 13 lists: Emory (1), CMS (4), Wash U (7), MIT (15), and Bowdoin (23).
Recruiting Class Ranking Wrap
We hope you have enjoyed these recruiting class rankings as much as we have enjoyed producing them. Thanks to all of our contributors who thoughtfully submitted their ideas and lists. Make sure to check out all of our lists from our homepage.
About Inspiration Academy
Inspiration Academy is proud to sponsor the Roundtable Discussion series of articles at TennisRecruiting.net.
Inspiration Academy is a LIFE preparatory school that believes in training student athletes from the inside-out. Whether it's baseball, tennis, sand volleyball, Filmmaking, Music or strictly Innovative Education you're after, Inspiration Academy provides industry professional mentors specifically designated to each student for the most individualized training program you will find anywhere. With boarding, beaches, great training facilities and world class coaching - get Inspiration!
For more information on what Innovation Academy looks like, check them out on Instagram, Facebook, and YouTube - or on their website.
Leave a Comment
More Recruiting Class Rankings
29-May-2023
Top Men's Classes - 2023 Rankings
Today we release our spring rankings of the Top 25 Men's Recruiting Classes. Recent commitments have moved a number of programs up the list - including five previously unranked classes. But a familiar face is hunkering down at the top of the list.
6-Feb-2023
Top Women's Classes - 2023 Winter Rankings
The size of our commitment list is pushing 500 for the senior girls. With that in mind, today is a great time to check in on how schools are doing on the recruiting trail. Today, the Tennis Recruiting Network is proud to announce the Top 25 Women's Recruiting Classes for 2023.
30-Jan-2023
Top Men's Classes - 2023 Winter Rankings
As January comes to a close and the spring semester gets into full swing, today is a great time to take a look at the top college tennis recruiting classes. TRN is excited to present its 2023 Men's Recruiting Class Rankings - including the Top Dawgs ...