College Feature
LaPlante's Roots Grow Strong Over Four Decades at UCSD
by Rhiannon Potkey, 6 July 2022
In her four decades of college coaching, Liz LaPlante has moved from Division III to Division II to Division I.
The unique part? She never had to change jobs or leave home.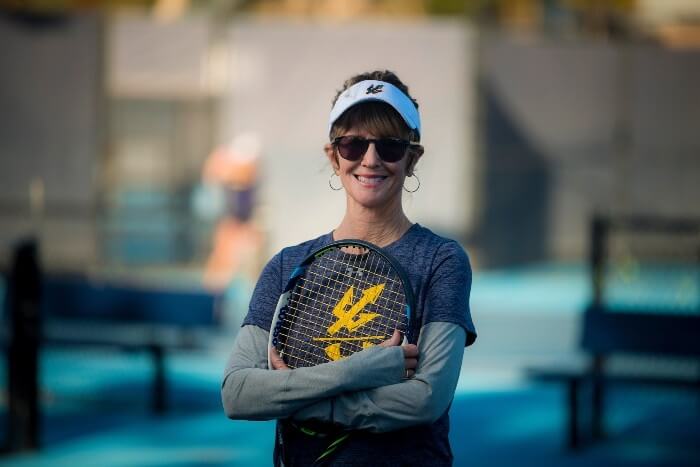 Liz LaPlante is Entering Her 44th Season at UCSD
© UCSD Athletics
LaPlante is entering her 44th season as the women's head coach at UC San Diego. The San Diego native got the job as a 21-year-old after her playing career ended at San Diego State.
She's led the Tritons program through UCSD's transition among the NCAA's three levels, finding a satisfying balance between coaching and raising a family in her hometown.
"I love the job. Obviously, I would have not stayed in all these years if I didn't," LaPlante said. "The job has definitely changed over the years, but the evolution of it kept me super motivated. It keeps you young being around college kids. I am as old as their grandparents now sadly, and I started off the same age as them. But it's so much fun being around them."
LaPlante was working as a student teacher when she heard about the UCSD women's job being open. A teacher at the school was friends with UCSD athletic director Judy Sweet and told LaPlante about the opportunity.
"I interviewed for it and lo and behold I got the job," said LaPlante, who had originally planned to teach and coach in high school. "I don't even know if any other people applied for the job or not. I kind of fell into it and I never expected to continue all these years."
Over her first 21 seasons at UCSD, La Plante became the most successful coach in NCAA Division III women's tennis. The Tritons qualified for the Division III Championships 19 times, winning four national titles, finishing second five times and placing third three times in that span. LaPlante was honored as the NCAA Division III Coach of the Decade in 1991.