Tournament Coverage
Brockett Conditioned To Win Boys 16s Clay Title
by Sonny Dearth, 21 July 2022
Even while encountering a home-area favorite, Stiles Brockett was too hot to stop.
A major reason: He did so much conditioning before the tournament that the expected steamy temperatures at the Delray Beach Tennis Center in South Florida weren't too hot for him.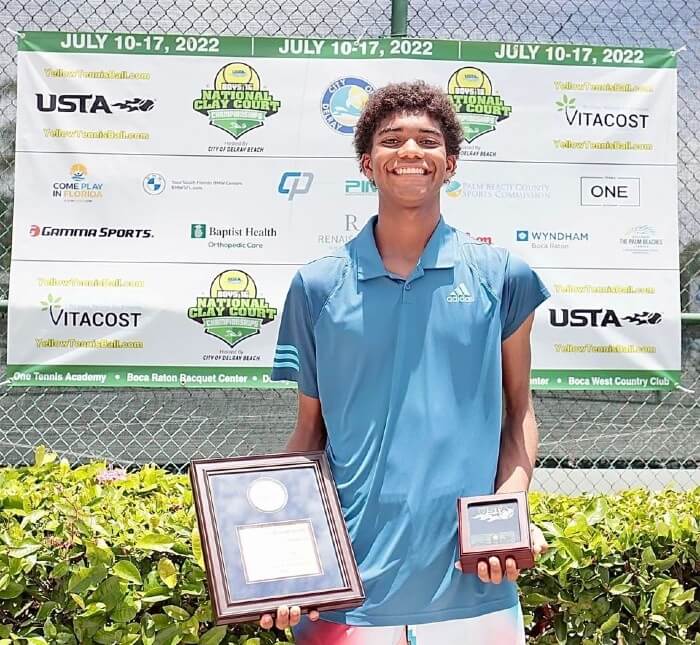 Singles Champion Stiles Brockett
© Contributed Photo
Brockett, from Fairfax, Virginia went 7-0 to capture the USTA Boys 16 National Clay Court Championships singles crown. He surged past fellow five-star prospect Mikel Anderson of Hillsboro Beach, Florida 6-1, 6-3 in a clash of co-No. 17 seeds and rising 11th-graders to gain his first singles gold ball. He won his initial gold ball by sharing the 16s doubles crown at winter nationals last January.
Brockett is a poster boy for improving his game. He has ascended from No. 357 in his class in 2019 to No. 17 this year in the Tennis Recruiting Network rankings.
Like many other talented players in the Washington, D.C. area, Brockett trains at the Junior Tennis Champions Center in College Park, Maryland. All that work with coaches Ali Agnamba, Asaf Yamin and Oliver Akli prepared him for the grind.
"They have really helped me the last few years," Brockett said. "We've been getting ready for a while. I do a lot of fitness. I felt pretty confident that my body would last the whole week, but it was obviously super-tough. It was super-hot, 100% humidity, sweating so much."