Championship Week
Montgomery Closes Strong To Win Girls 14s
by
Ali Jones
, 16 August 2017
Robin Montgomery played extraordinary tennis throughout the USTA Girls 14 National Hardcourt Championships in Rome, Ga., to capture the singles title. She defeated surprise finalist and 33rd seed Reese Brantmeier 6-0, 6-1 in the final.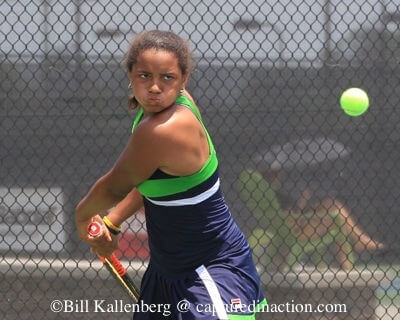 "The first three rounds Robin played the way I expected her to play," said Montgomery's coach Ali Agnamba. "In the next rounds, however, she just came out on top, playing unbelievable tennis. And in the finals, she was disciplined and she executed the way she wanted to play. She was aggressive and never gave time to her opponent to get back into the match at all. The score was 6-0, 6-1, but it was her intensity, the way she went after her opponent that made that happen."
It is the second gold ball the 17th seed champion has won. Her first came last month when she won the USTA Clay Court Championships in doubles. In addition, Montgomery, a Washington D.C. resident, has a pair of bronzes and another pair of silvers.
Seventeenth seed Elaine Chervinsky (Boca Raton, Fla.) won the singles bronze, beating No. 4 Katja Wiersholm (Kirkland, Wash.) 6-2, 6-0.
In doubles, top-seeded Savannah Broadus (Carrollton, Texas) and Kailey Evans (Ennis, Texas) took the title with a 6-2, 3-6, 6-1 victory over No. 5 Carson Tanguilig (Alpharetta, Ga.) and Elise Wagle (Niskayuna, N.Y.) Second-seeded Hibah Shaikh (Teaneck, N.J.) and Madison Sieg (Greenwich, Conn.) took home the bronze with a 4-6, 7-6(2), 6-2 victory over No. 4 Sophia Strugnell (Summerfield, N.C.) and Alexandra Torre (Chapel Hill, N.C.).