Special from
Zoo Tennis
PLANTATION, Fla. - The 71st Orange Bowl Championships ended on a chilly Sunday at the Veltri Tennis Center with top seed Whitney Osuigwe claiming yet another title, and Hugo Gaston of France stepping into the Grade A spotlight for the first time.
The 15-year-old Osuigwe had long since clinched the title of ITF World Junior Champion, so collecting a second Orange Bowl title became her focus at the last International Tennis Federation Grade A of the year.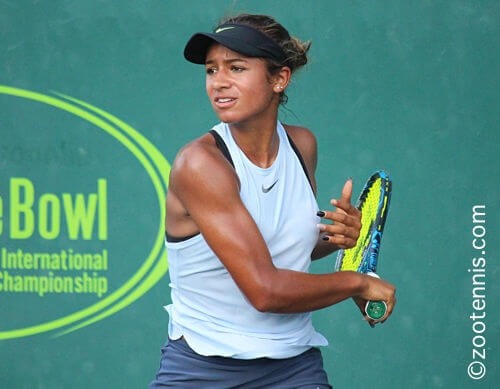 Orange Bowl Girls 18 Champion Whitney Osuigwe
©
Zoo Tennis
After a 6-1, 6-2 victory over unseeded Margaryta Bilokin of Ukraine in the final, Osuigwe was able to look back with satisfaction and ahead with anticipation.
"I'm really happy," said Osuigwe, who won the Junior Orange Bowl 12s title in 2014. "I've always done pretty well here, getting to the semis last year and winning the time I played before that. I was really excited to win this tournament and finish off my junior career. Maybe this is my last junior match, I don't know, but to finish off my junior career like this, that's amazing."
Although Osuigwe has proven herself at the top of the junior game, winning six Grade 1 or Grade A titles this year, including the French Open girls championship, she is still subject to WTA age restrictions, so has not ruled out playing junior slams this summer. But her plan for 2018 is to build her WTA ranking.
"I'm just going to transition further into the pro level," Osuigwe said. "I have still limitations on tournaments, on what I can do next year, so I'm just going to have a couple of training blocks, maybe play some 25s. I know I'm going to play the Miami Open."
With temperatures in the 50s and 10 to 15 mph winds, conditions for the final were not to Osuigwe's liking, but she was determined to get off to a good start after trailing early in her 7-6 (5), 6-2 semifinal victory over No. 9 seed Joanna Garland of Taiwan on Saturday.
"I'm a Florida girl, so I'd rather it would be really hot than really cold," said the Bradenton resident, who trains with her father Desmond, a coach at the IMG Academy. "But I was pretty on it from the beginning, knowing that yesterday I kind of let her take the lead before I really got into it. So I was trying to stay focused from the beginning to the end."